FEATURE: Knife maker preserves tribe's traditions
Aboriginal knife maker Lee Chang Li-yuan (李張力元) is adamant that buyers of his knives take his course on how to use them.
"These knives aren't sold lightly, and they are not for looking cool. Once you enter the mountains and woods, nature teaches you their uses," Lee Chang said, adding that every knife a Rukai tribesman holds has a story of its own.
Lee Chang, 36, served in the army for a decade before returning to his home village seven years ago and starting to make knives the traditional way.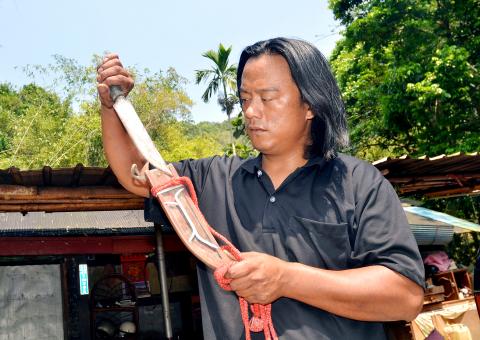 Knife maker Lee Chang Li-yuan of the Rukai Aboriginal tribe shows one of his own knives in Taitung County on April 5.
Photo: CNA
Due to his beliefs, Lee Chang insists that any buyer has to participate in about 248 hours of training, which includes meeting Rukai tribesmen, learning about the tribe's rituals and ceremonies regarding the uses of the knives, and in Lee Chang's words, "getting acquainted with your weapon."
The 248 hours of training is a rough estimate, and buyers do not necessarily have to stay that long, but they do have to meet a certain standard before they are entitled to own the knives, Lee Chang said.
According to Lee Chang, every Rukai tribesman has traditionally owned five knives over the course of their life. The first is a small knife parents place under the pillow of a child, to ward off spirits and calm the infant. The second — known as a working knife — is given to a boy when he reaches the age of 13 or 14 and begins to participate in tribal affairs and learn how to be a man.
Receiving the working knife symbolizes the beginning of the learning process, Lee Chang said, adding that of all the knives a Rukai owns, the "working knife" has the widest application.
The Rukai use it in everyday life, for chopping wood in the mountains, or for hacking a trail when traveling through rough terrain, Lee Chang said, adding that it was an extension of the user's hand.
Without a working knife a man would find himself almost completely unable to move in the mountains, and would feel like a cripple when out of the mountains, Lee Chang said.
The third knife is the hunting knife, Lee Chang said, adding that the blade of a hunting knife is shorter than that of a working knife, making it very useful for close quarters combat and hunting.
The hunting knife can also be tied to the end of a bamboo pole, turning it into a spear and making it effective against boars, Lee Chang said, adding that he had used his own hunting knife to kill six boars.
The fourth knife — the ceremonial knife — is the most ornate, and is usually hung on the walls of the house and not worn except during ceremonies, Lee Chang said, adding that only those with grandchildren were worthy of such blades.
The ceremonial knife symbolizes the continuation of tribal life, and was a "blade of life," Lee Chang said.
However, the ceremonial knife used to have another use — to sever the heads of enemies, Lee Chang said, adding that in the old days, only chieftains or elders could wear the ceremonial knife without being ridiculed.
The last knife is not a knife of steel, but of teeth, Lee Chang said, adding that as one ages, a person loses teeth and returns to a stage akin to infancy.
Rukai elders always carry with them a small knife made from their own teeth, with which to carve meat, Lee Chang said.
"Our ancestors did not leave us any relics, they only gave us the land," Lee Chang said.
In light of this, Lee Chang and other Aborigines have worked hard in recent years to rebuild old tribal villages and promote their unique lifestyles as a tourist attraction.
Lee Chang said that in modern times the knife serves not as a weapon with which to take another's life, but as a key between the Aborigines and their ancestral mountains.
Lee Chang said he hoped the knife would "open the way for younger Rukai to once again be connected to the land of our ancestors."
Comments will be moderated. Keep comments relevant to the article. Remarks containing abusive and obscene language, personal attacks of any kind or promotion will be removed and the user banned. Final decision will be at the discretion of the Taipei Times.