Half-sweet drinks contain too much sugar: foundation
While more than 60 percent of consumers in Taiwan ask for less sugar when buying beverages, the John Tung Foundation said yesterday that as much as 77 percent of half-sugar beverages are not true to the name, as they contain 70 to 80 percent or even the same amount of sweetener as full-sugared drinks.
The foundation sampled 232 drinks from 10 hand-shaken beverage chains and found that only 23 percent of the half-sugared drinks contained half of the full sugar load.
Of those that claim to have half the sugar, but are actually over-sweetened, 16 percent have as much sugar as full-sugar beverages, said Yu Hsuan-wen (尤宣文), the foundation's dietitian.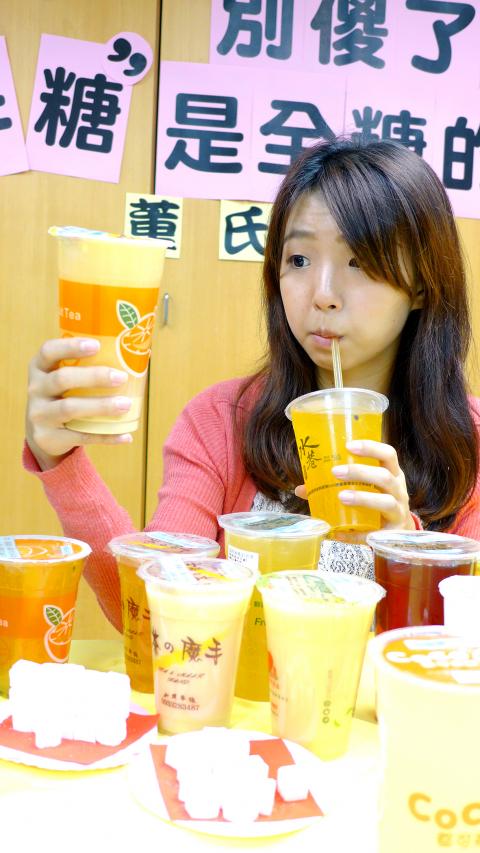 A woman drinks tea at a press conference in Taipei yesterday held by the John Tung Foundation to draw attention to its survey which found that drinks on the market claiming to have reduced levels of sugar often have higher levels than advertized.
Photo: Hung Su-ching, Taipei Times
Citing as example a 500ml cup of passion fruit green tea, the foundation said the full-sugar version can contain up to 75g of sugar.
However, the half-sugar version often contains as much as 70g of sugar, and can remain as high as 51g when a customer asks for one-third of the full sugar load, it said.
Lo Fu-sung (羅福松), chief physician of the Pediatric Endocrinology Division at the Chang-Gung Medical Foundation, who is also the director-general of the Child Growth Association, warned that excessive sugar intake can inhibit the release of growth hormones, which results in short stature or slow growth in children, and abdominal obesity and higher susceptibility to cardiovascular diseases in adults.
"Growth hormone release is inhibited for at least two hours after an adult consumes 75g of glucose [sugar], and the threshold level for children is 1.75g per kilogram," Lo said.
This means that a 30kg child would have their growth hormones inhibited for two hours if they consume 52.5g of sugar.
"This means that if a child consumes two over-sweetened drinks a day, their bodies would experience the two-hour growth hormone release inhibition twice that day, which amounts to four hours. The consequence would be that the children may not grow to their normal height," Lo said.
Hsu Hui-yu (許惠玉), head of the foundation's food nutrition section, said various foreign studies have already shown that frequent consumption of high-sugar drinks not only causes physical harm, but also psychological problems.
"Excessive consumption of drinks with a high sugar content has been said to have a high correlation with violent and suicidal tendencies," said Hsu, who strongly advised consumers to drink water or non-sweetened drinks.
Comments will be moderated. Keep comments relevant to the article. Remarks containing abusive and obscene language, personal attacks of any kind or promotion will be removed and the user banned. Final decision will be at the discretion of the Taipei Times.