Soldiers take part in beach landing drill in Pingtung
WAR GAMES: Another drill was held at the Hsinchu air force base, with over 2,000 people participating. A second round of exercises is slated to be held in July
The military yesterday staged a beach landing drill in Pingtung County as part of the annual Han Kuang military exercises held this week.
The drill involved a string of eight attacks, the first one beginning at 6:30am with a simulated attack against beach targets by an assault amphibious vehicle (AAVP7) and an amphibious mechanized landing craft.
During the drill, marines had to remove underwater explosive devices, while sorties of fighter jets and attack helicopters provided air cover to the landing operation.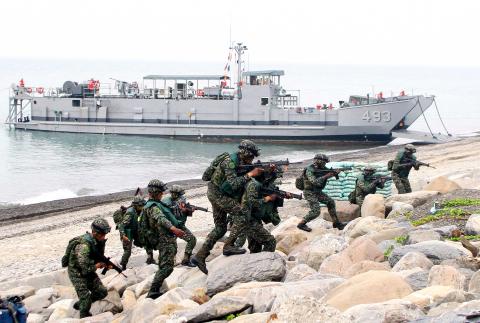 Soldiers take part in a joint army and navy beach landing drill in Pingtung County yesterday as part of the annual Han Kuang military exercises that are being held this week.
Photo: CNA
A gate on a mechanized landing craft became stuck during the exercise and maintenance personnel on board had to deal with the problem.
Navy officers said it was not an unexpected malfunction, but rather an important part of the drill to test the force's emergency maintenance ability.
Chief of the General Staff Yen Ming (嚴明), Army Commander General Lee Hsiang-chou (李翔宙) and Navy Deputy Commander Sa Hsiao-yun (薩曉雲) inspected the exercise, which involved more than 4,000 troops.
Another drill was conducted at the air force base in Hsinchu County, with the participation of more than 2,000 service people. A parachute exercise was canceled due to strong winds.
The drills, which did not use live ammunition, were part of the five-day Han Kuang exercises, which began on Wednesday in Penghu County with live ammunition being used for the first time since 2008.
A second round of Han Kuang exercises are to be held in July, focusing on computer-aided war games.
Meanwhile, navy officers said that a problematic sensor was identified as the reason why a naval gun failed to function during a live-fire exercise off Penghu County on Wednesday.
During an anti-landing drill, the 76mm gun on a Ching Chiang-class patrol vessel failed just before it was scheduled to begin firing, said Vice Admiral Hsu Pei-shan (許培山), the navy's chief of staff.
The problem was soon resolved, but the shelling was canceled because the vessel had already passed the designated area, Hsu said.
There was also a glitch on a Cheng Kung-class frigate when the shelling from its 76mm gun halted because the weapon's angle of elevation exceeded the safety limit, Hsu said.
However, the shelling resumed later, the navy said, adding that "there was no [weapons] failure" that time.
Comments will be moderated. Keep comments relevant to the article. Remarks containing abusive and obscene language, personal attacks of any kind or promotion will be removed and the user banned. Final decision will be at the discretion of the Taipei Times.