Hau defends government over Twin Towers scandal
DUE DILIGENCE? The Taipei mayor said that the city government had vetted the two Malaysian partners in Taipei Gateway International's bid for the project
Taipei Mayor Hau Lung-bin (郝龍斌) yesterday showed documents that were provided by two Malaysian corporations in the bidding process for the scandal-ridden Taipei Twin Towers project, and defended the city government's effort to verify the financial credibility and investment plans the developer had provided.
The Malaysian firms — IGB and Mid Valley City — were members of the consortium that won the bid in October last year to develop the two high-rise buildings. The major player in the consortium, Taipei Gateway International Development, is suspected of bribing city officials and councilors, and fabricating the consortium's financial reports to win the bid.
The cooperation between the city government and the consortium failed after Taipei Gateway International Development was unable furnish a NT$1.89 billion (US$63.7 million) performance bond by the deadline, sparking concerns that the city government had been fooled by the developer because the two Malaysian companies were never the developer's investment partners.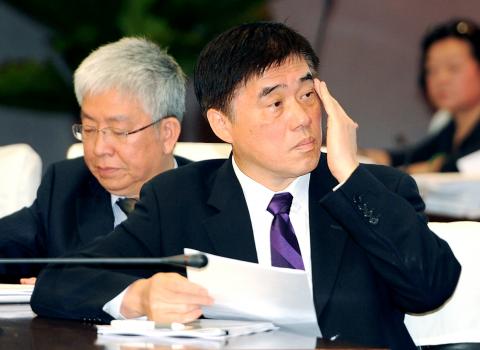 Taipei Mayor Hau Lung-bin, right, and Deputy Mayor Chang Chin-oh hold a press conference at the Taipei City Government yesterday regarding the bidding process for the Taipei Twin Towers project.
Photo: Liao Chen-huei, Taipei Times
"These documents provided by IGB during the bidding process were verified by the Malaysian government and examined by our representative office in Malaysia … We did our best to verify the credibility of the investors," Hau told a press conference at Taipei City Hall.
Taipei City Legal Affairs Commissioner Tsai Li-wen (蔡立文) said his department never changed the criteria for the bidding, and the investment contract stated clearly that the private owners of the land and the three members of the consortium should all follow the contract.
Hau accused Taipei Gateway International Development of damaging the city government's reputation and causing indefinite delays to the project, and urged prosecutors to unveil the truth as soon as possible.
As the city government plans to hold another bidding process, Hau said the city government would adopt stricter criteria for large-scale projects, and increase the performance bond and other financial requirements from the bidders.
"We need to ensure that the construction firms have the ability to follow the requirements of the contract and prevent them from engaging in illegal acts," he said.
Prosecutors have detained Chinese Nationalist Party (KMT) Taipei City Councilor Lai Su-ju (賴素如) on suspicion of accepting bribes from the developer, and identified Taipei City Department of Finance Commissioner Chiu Da-chan (邱大展) as a suspect in their ongoing investigation.
Comments will be moderated. Keep comments relevant to the article. Remarks containing abusive and obscene language, personal attacks of any kind or promotion will be removed and the user banned. Final decision will be at the discretion of the Taipei Times.