FEATURE: Pet owners flock to pet funeral service providers
One night in July 2011, Kiki was nearing the end of her life. The 10-year-old Chihuahua was diagnosed with fibroids.
"Kiki was hospitalized and medicated, but her condition kept deteriorating," said her owner, Jessie Chou, 51.
"It was heartbreaking for us to see Kiki suffer, so we decided to stop all medical procedures and have her put down," Chou said. "It happened so suddenly that we had no idea what to do next."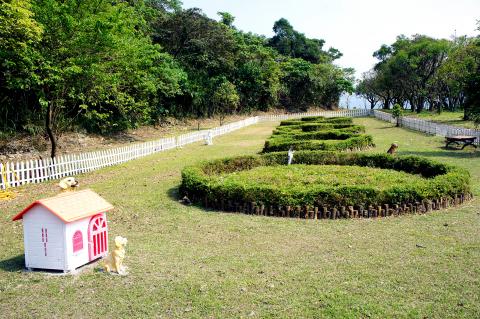 The Secret Garden, a pet cemetery run by the Taipei City Government, is pictured on Thursday.
Photo: CNA
Chou thought about burying Kiki near her home, under a bridge in New Taipei City's (新北市) Yonghe District (永和), but her children opposed the idea, mainly over concerns that the carcass could be dug up by stray animals.
Trying to give Kiki a better final resting place, Chou's children searched the Internet that night and found the "Secret Garden" — a pet cemetery run by the Taipei City Government.
The cemetery is a 1,650m2 landscaped garden adjacent to the Fu Te Public Cemetery in Taipei.
The Secret Garden was established in November 2007 as the country's first public repository for pet remains. Since then, the ashes of 2,074 dogs, 644 cats, 100 rabbits and 27 other pets such as birds, turtles and lizards have been sprinkled in the garden, according to the Taipei Mortuary Services Office.
The service is free, but the owners are responsible for having their pets cremated elsewhere, the office said.
Taipei Mortuary Services Office deputy superintendent Yang Yi-lin (楊薏霖) said the garden serves a good purpose, in addition to being a final resting place for pets.
Some pet owners have told Yang that they feel at ease when they come to the garden to remember their animal friends, as they can sit and "imagine the way that their dogs or cats would have run across the garden's lawn."
She also suggested that the government set up regulations or laws governing pet funerals rather than applying existing funeral laws designed for human burials, as part of efforts to offer a legal basis for pet funeral service providers.
Some pet owners choose to go further afield to find a more formal burial ground.
Chang Yu-hsing, a bereaved pet owner, drove for more than an hour from Taipei to a graveyard called Pet Paradise near the national scenic area along the north coast.
"We wanted to bury Luku under a tree, somewhere near the sea," she said, referring to her dog, who died at the age of 15.
Pet Paradise owner Chen Tsai-fu, whose privately run graveyard has been serving as a final destination for about 1,000 pets since 2002, said that more people are starting to pay attention to the details of how their pets are handled after death.
"They simply treat their pets like family members," Chen said.
Not to be outdone by competitors, Lung Yen Life Service Co (龍巖集團), one of the nation's largest funeral service companies, has established a pet memorial hall in New Taipei City, providing professional funeral services similar to those for humans.
The memorial hall has had about 30 urns of pets interred since its opening in July last year. It costs about NT$50,000 for a funeral package and an additional NT$55,000 to leave an urn in the hall for three years, the company said.
People are spending more time and money on their pets, said Vonda Lu, a manager in Lung Yen's research and development department.
"We find that the average age of pet owners is rising and that the money they spend on their pets is increasing," she said. "For some pet owners, losing a pet is like losing a family member. We hope that grieving owners can find comfort through our services."
Comments will be moderated. Keep comments relevant to the article. Remarks containing abusive and obscene language, personal attacks of any kind or promotion will be removed and the user banned. Final decision will be at the discretion of the Taipei Times.