FEATURE: Passion for helping children leads to fulfillment in life
A man from Taitung City who started to help children in his neighborhood with their homework after school has found fulfillment and a purpose in life, and in the process became a surrogate father to more than 300 children.
From originally being called by cynics "the place where someone who cannot even feed himself tries to raise other people's children," the Taitung Kids' Bookhouse, founded by its chairman Chen Chun-lang (陳俊朗) and the Taitung Educational Development Institute, has become known as a place where after-school tutorials are offered and where children get a healthy meal every day.
The Bookhouse employs teachers who facilitate a learning environment and organize activities for children during weekends and holidays.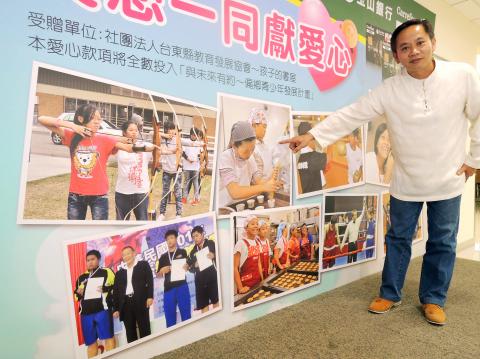 Taitung Kids' Bookhouse founder Chen Chun-lang shows a display of teenagers' activities at a sponsorship event in Taipei on March 14.
Photo: Weng Yu-huang, Taipei Times
"When I began this work, it was to keep my family together. In the past, I operated a nightclub. In those days, I washed my hands in a gilded washbasin. Later I moved out of those unsavory business circles, to become a 'story-telling father' and get involved with schools," Chen said.
When he was young, Chen took the university entrance examination three times. However, with his marks he could only get accepted at private universities. He then decided to forget about a college education and instead worked in Taipei City for five years, doing different jobs.
After getting married and with two sons to take care of, Chen decided to settle his family in his home city of Taitung.
"At that time, I was focused on making money. I did any job that was available. Together with a friend, we opened a sex shop. Later we operated a nightclub," he said.
However, his wife left home to live with her mother and took their children with her. To keep his family together, Chen left the nightclub and became a "house husband," which led to him becoming a "community father."
"Five years ago, I began to read stories to my two sons and taught them martial arts. I also played the guitar to them and helped them do their homework. My sons' friends also started to come to our house after school, then more children from the neighborhood joined in," Chen said.
It did not take long before his backyard became a second home to many children from the neighborhood.
"It grew from two children to 30, then to 40, and later to more than 100. Now we have more than 300 children here," Chen said.
The kids all love the popular "Daddy Chen."
"One day, someone donated a stack of books. So this place became the 'Bookhouse' for kids," he added.
Chen's hero is Chao Feng (喬峰), one of the lead characters in the martial arts historical novel Demi-Gods and Semi-Devils (天龍八部), written by the novelist Jin Yong (金庸).
"To become a hero to kids, one should be good at telling stories, but one also should be able to help them with their school work," he said.
"Once, I was stumped by some junior-high school math questions. It made me angry, so I bought many textbooks and reference books, starting at grade-four level and going higher. It was like training to improve my martial arts," he said.
After he got to know the learning material better, Chen produced his own teaching kits.
He made rockets to teach action-reaction and other physics principles. He fashioned his own catapult to throw rocks, to help teach mechanics and the lever principle. He made kids drag car tires behind them, so that they could feel friction at work.
"Integrating teaching with everyday life helps kids to understand concepts better and learn quickly," he said.
"I used to punish children physically. Then I realized it was ugly to see an adult hitting a child. So I never did it again," he said.
"When I could not save kids from being victims of domestic violence, I went to pick fights with the adults who physically abused the kids. For this, I was punished with fines. In one year, I received 10 fines of NT$30,000 (US$1,000) each, for a total of NT$300,000," Chen added.
"Once a father with a history of domestic violence got drunk and chased his child to my Bookhouse, carrying an Aboriginal curved-blade sword. I took a bigger sword to scare him and other abusive adults off," he said. "From then on, the neighborhood children all knew that if they ran to my Bookhouse when they were threatened, they would be safe."
As time went by, more children showed up at the Bookhouse. Other adults, with the same belief and passion for helping children, also started to offer their assistance. Some were from Taipei and Kaohsiung, others came from Taitung, Nantou and Penghu.
Chen's organization grew, but costs also multiplied. He first used his life savings of NT$5 million to run the Bookhouse, but it was not enough and he ran up debts of more than NT$2 million. He tried at many places to get loans, but people did not want to lend him money.
Chen then started a donation drive. Now a number of corporations are making monthly donations to pay some of his teachers' wages, but he still needs more financial support.
"In the first three years, I ran out of money. My wife could not stand it anymore and she filed for divorce. I also parted ways with many friends. Then I started to have health problems and felt that I could not carry on anymore," he said.
One Taitung resident described Chen at the time: "He looked like a homeless person."
However, Chen said he had a religious calling. He said that God told him: "Your burden will be lightened. You will feel that you are not strong enough, but when the next day dawns, you will find the strength to carry on."
Chen then became a Christian and realized his mission in life.
"These more than 300 children are a heavy burden, but they are my family members. As a family, I should do something for them," he said.
He made his Bookhouse self-sufficient by growing and selling organic vegetables. He said this is also a way for the children to get to know the land, while developing local economic networks and creating job opportunities.
Now Chen's two sons are studying at university and they have come to understand why their dad became a surrogate father to the neighborhood's children.
"We want to change the lives of these children. We can give them hope," Chen said.
His Bookhouse cooks lunch for the children every day, and they all say grace before eating their meal.
The Taitung Kids' Bookhouse now has more adults who help where they can, who are willing to bear the load and give hope to the children.
Comments will be moderated. Keep comments relevant to the article. Remarks containing abusive and obscene language, personal attacks of any kind or promotion will be removed and the user banned. Final decision will be at the discretion of the Taipei Times.