Class marks Children's Day by helping student
A sixth-grade class at Fuxing Elementary School was recently cited by the Taipei City Government for its idea on how to make this year's Children's Day different — which they did by preparing breakfast and helping get lunch for a physically challenged classmate.
The classmate, Ku Chia-hung (古家宏), has Duchenne muscular dystrophy, a condition characterized by progressive loss of muscle function and weakness. Since his mother, a single mom, works two jobs and has to help Ku, who uses a wheelchair, get to school, Ku sometimes did not have time to eat breakfast, his classmates said.
However, since March 15, Ku's classmates have been taking turns preparing Ku's breakfast, so he does not have to go hungry in the morning.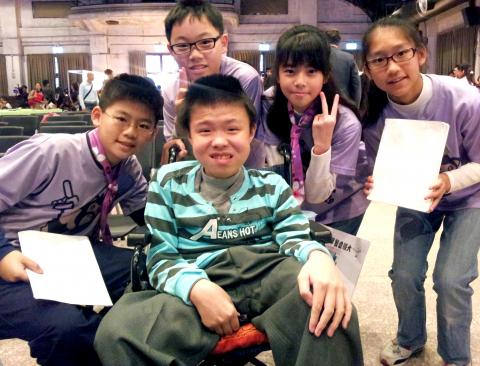 Ku Chia-hung, front, who suffers from Duchenne muscular dystrophy, sits with classmates at Fuxing Elementary School in Taipei on Saturday.
Photo: Lin Hsiang-mei, Taipei Times
Ko Chi-lun (柯紀綸), one of Ku's classmates whose family sells steamed buns, once prepared a breakfast of soybean milk and steamed meat buns, but hurriedly changed it to milk tea after learning that Ku does not like soybean milk.
Other classmates who have helped out include Wu Pei-chen (吳佩蓁), who prepared black tea with riceballs, while Chen Yu-sheng (陳煜勝) brought a chicken burger with milk tea and Lo Hsi-yu (羅思榆) prepared sandwiches and fresh orange juice.
Ku on Friday said he felt slightly abashed while listening to his classmates talk about his breakfast during school hours.
Other than his aversion to soybean milk, Ku said he does not really have any preferences.
However, his classmates seem to know him well, with one quickly adding: "And you also like to eat hamburgers," drawing a round of light-hearted laughter from Ku and his classmates.
Ku's mother, Ku Ling-li (古玲麗), said her younger brother passed away at the age of 14 due to the same illness.
"I am prepared for anything, but at the same time I'm hopeful and wish that my son will survive," Ku Ling-li said.
Ku Ling-li added she was moved by and thankful for the kind gestures of her son's classmates.
Comments will be moderated. Keep comments relevant to the article. Remarks containing abusive and obscene language, personal attacks of any kind or promotion will be removed and the user banned. Final decision will be at the discretion of the Taipei Times.