Control Yuan to open Lee probe
The Control Yuan said it was launching an investigation into allegations of corruption against Chinese Nationalist Party (KMT) Nantou County Commissioner Lee Chao-ching (李朝卿), which have led to his suspension and a rejection on Monday of his request to be reinstated.
Minister of the Interior Lee Hong-yuan (李鴻源) said on Monday night his ministry had decided to refer Lee Chao-ching's case to the Control Yuan in accordance with the law, and the suspension would therefore be maintained. The Control Yuan said two of its members, Shen Mei-chen (沈美真) and Chen Yung-hsiang (陳永祥), are probing graft allegations against Lee Chao-ching.
Lee Chao-ching is accused of taking kickbacks, mainly in relation to projects for the post-disaster reconstruction of roads and bridges, and procurement contracts for a national sports meet.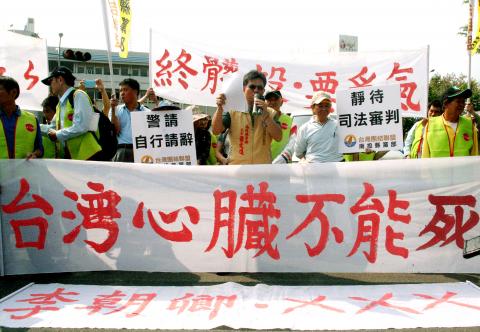 Taiwan Solidarity Union supporters hold banners outside the Nantou County Government building yesterday, calling on suspended Nantou County Commissioner Lee Chao-ching to resign.
Photo: CNA
Shen said Lee Chao-ching's questioning will begin after he has been indicted on corruption charges.
The Control Yuan will also question civil servants in the county government, she said.
Asked whether he had received any directives from his superiors regarding Lee Chao-ching's reinstatement request, the minister said "absolutely not," adding that he had been mulling the matter since Thursday and took several days to make the decision.
The minister also said he had issued an ultimatum to Lee Chao-ching to withdraw his request by 7pm on Monday or face having his case be handled in accordance with the Public Functionaries Discipline Act (公務員懲戒法).
The minister said that after he made the decision, he informed Premier Jiang Yi-huah (江宜樺) and sent a copy of the press release to President Ma Ying-jeou (馬英九).
When questioned by lawmakers about the case yesterday during at a question-and-answer session at the legislature in Taipei, Jiang said he abhorred acts of corruption because they affect public trust in government officials.
Public trust is a prerequisite for the government to run the state apparatus, he added.
Meanwhile, Vice President Wu Den-yih (吳敦義) yesterday denied meeting with Lee Chao-ching and asking him to drop his application for reinstatement.
Separately yesterday, pro-independence groups staged a protest in front of the Nantou County Government building, calling for Lee Chao-ching's resignation.
They also took issue with the fact that Lee Chao-ching would still receive half his salary while he is suspended.
Additional reporting by Shih Hsiu-chuan and Mo Yan-chih
Comments will be moderated. Keep comments relevant to the article. Remarks containing abusive and obscene language, personal attacks of any kind or promotion will be removed and the user banned. Final decision will be at the discretion of the Taipei Times.