Groups call for greater AIDS awareness
About 70 Taiwanese and Japanese Rotaract Club members and the Taiwan AIDS Foundation joined hands yesterday in Taipei, calling for public awareness on AIDS prevention and the risks of HIV transmission through unprotected sex.
According to the alliance, with a population of 128 million people, Japan has an HIV/AIDS infection rate of 0.01 percent, whereas in Taiwan — with a population of 23 million — there are approximately 25,000 people diagnosed with the infection, which amounts to a relatively high infection rate of 0.1 percent.
Statistics show that 70 out of every 100 patients who test positive for HIV in Taiwan are infected through unprotected sexual intercourse, the alliance said, adding that it was this alarming figure that brought them to action.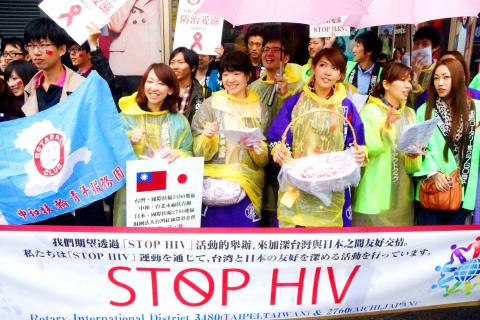 Members of the Taiwan AIDS Foundation and Japan's Rotaract Club distribute condoms in Taipei's Ximending yesterday to emphasize the importance of safe sex.
Photo: CNA
The groups distributed condoms to the crowd in Taipei's Ximending (西門町) to show their determination about putting the issue on the agenda.
The groups also drew attention to female self-protection against HIV, saying that as of last month, the number of Taiwanese women with HIV was 1714, accounting for only 7 percent of the total number of people infected with HIV in Taiwan
The relatively low percentage has caused women to be left out of AIDS prevention activities and programs, the groups said.
A sign with instructions on how to use a condom and a femidom, a female condom, was on display at the event.
Vice general-secretary of the Taiwan AIDS Foundation Sandy King (金家玉) said a femidom can protect women from sexually transmitted infections if their male sexual partner is not using a condom.
As women are biologically more susceptible to heterosexual transmission of HIV due to substantial mucosal exposure to seminal fluids during unprotected heterosexual intercourse, raising awareness about female self-protection should not stay on the back burner any longer, the groups said.
Meanwhile, the foundation's director of social work, Lin Yin-han, said that GisneyLand, the open service station for gay people near the Red House Theater in Ximending, offers free, anonymous and rapid HIV testing; services are available between 6pm and 11pm from Tuesday to Sunday, with extended hours to 1am on Friday and Saturday.
Comments will be moderated. Keep comments relevant to the article. Remarks containing abusive and obscene language, personal attacks of any kind or promotion will be removed and the user banned. Final decision will be at the discretion of the Taipei Times.