Pastor uses hands to spread Gospel
LIFE'S MISSION: Being born deaf and mute has not stopped Wu Hsin-tsang from finishing seminary and ministering to the hearing-impaired
Every week in a small room in the basement of a building in Taipei's Gongguan District (公館), people gather for Sunday service. However, unlike most church services, there is no piano accompaniment, no choir. On stage, Pastor Wu Hsin-tsang (吳信蒼) gestures with his hands, eliciting smiles and nods of agreement from the audience.
Born deaf and mute, Wu's journey to becoming the pastor of the Po-Ai Sign Language Presbyterian Church in Gongguan is a story of faith overcoming the difficulties and challenges in life.
Wu said he had never regretted the path he had taken, although it was a difficult one.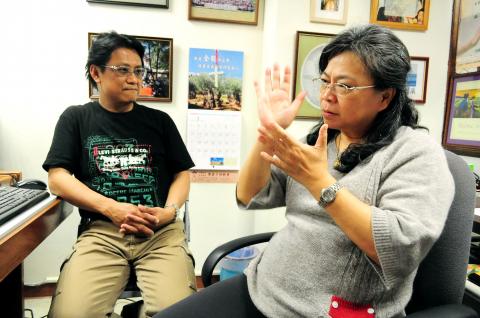 Pastor Wu Hsin-tsang, left, watches as his wife, Chen Tzu-mei, interprets a question into sign language during an interview in Taipei on Friday last week.
Photo: Chiu Shao-wen, Taipei Times
Wu said he was overcome with despair after he nearly lost his life when he suffered an epileptic attack when he was 15.
"I felt completely hopeless," Wu said in sign language.
However, a friend introduced him to the Christian faith by bringing him to the church founded by Kanji Shirai, a Japanese who was also deaf and mute.
After half a year of praying, Wu said he was cured of epilepsy. This deepened his faith in God and gave him a new purpose in life, he said.
After committing himself to serving the Lord, Wu began considering attending the Taiwan Theological College and Seminary, but experienced doubts, as he wondered how he could reach out through sign language.
He found the answer to his question when he came across passages in the book of Exodus relating how God called on Moses to lead the Israelites out of Egypt, and Moses at first resisted.
In chapter 4, verse 10, "Moses said to the Lord: 'Pardon your servant, Lord. I have never been eloquent... I am slow of speech and tongue."
Chapter 4, verses 14 to 16 further affirmed Wu's faith in God's call: "[The Lord] said: 'What about your brother, Aaron the Levite? I know that he can speak well... He will speak to the people for you."
"The Lord had already provided me with a wife who can speak for me, and there is nothing to fear," Wu said.
When Wu started attending the seminary, he often recorded his lessons so that his wife could listen to them and interpret them into sign language.
"I was not the brightest in the class and had only a limited understanding of the written word. So when it came to comprehension, my classmates were like hares, and I was the tortoise," Wu said.
Wu studied for four years at the seminary and became the first hearing-impaired person to earn a master's degree at the school.
However, finishing school was only the beginning of the difficulties that lay ahead.
What is truly difficult is relaying God's word to people, he said.
Every Sunday, Wu uses his hands to deliver his message, while ever conscious that they might not be enough to convey some of the more abstract ideas. He punctuates his sermons with impromptu skits and stories from his personal experience to bring his message closer to laypeople.
"The hearing-impaired are not physically deficient, but [through them] God wants to teach us how to love and respect others," Wu said.
The deaf and mute may be silent, but they are often caught in situations where they wish they could speak up, Wu said. It takes only a little patience for them to be able to communicate with others in society, he said.
Wu said he had noticed that many hearing-impaired couples have difficulty teaching their children, with misunderstandings usually arising because of difficulties in communicating. He encourages those parents to teach their children sign language while they are still young to facilitate communication.
The church also organizes small groups periodically for churchgoers to share their experience — from managing their marriage to communicating with their children, Wu said, adding that he hoped faith would become part of their lives and help them influence others.
While the church is based in Taipei, it attracts its congregation from other areas as well.
Liu Ching-yun (劉慶雲) and Huang Hui-ying (黃惠英) drive to Taipei every Sunday from Miaoli to attend the service, and according to the couple, Sunday is the day they most look forward to.
The 65-year-old couple said that they had attended other churches, but felt that they could not fit in, unlike at the Taipei church, where they felt at home because they can use their own language.
Attending service at the church every Sunday lets them feel the love that God has for mankind, they said.
Comments will be moderated. Keep comments relevant to the article. Remarks containing abusive and obscene language, personal attacks of any kind or promotion will be removed and the user banned. Final decision will be at the discretion of the Taipei Times.