FEATURE: Doll maker aims to bring town to life
CREATIVE SPIRIT: Discovering a book on doll-making led a Shihding resident to pursue a new career, which she hopes will revitalize tourism in her hometown and inspire others
A resident of New Taipei City's (新北市) Shihding District (石碇) has brought a different sort of tourist attraction to the area, and hopes to make visitors aware that there is more on offer in the district than just the International Sky Lantern Festival.
In contrast with those who lack opportunities to leave their home towns, Lin Shu-fang (林淑芳) has had ample opportunities to move away, but has chosen to stay in Shihding and become a self-styled "guardian of the old streets."
Looking at her hometown, with its old street running parallel to a river overlooking a row of houses on stilts, and despite its damp climate and cold winds due to its proximity to the mountains, Lin said she could not imagine that tourists would not appreciate the beauty of the place.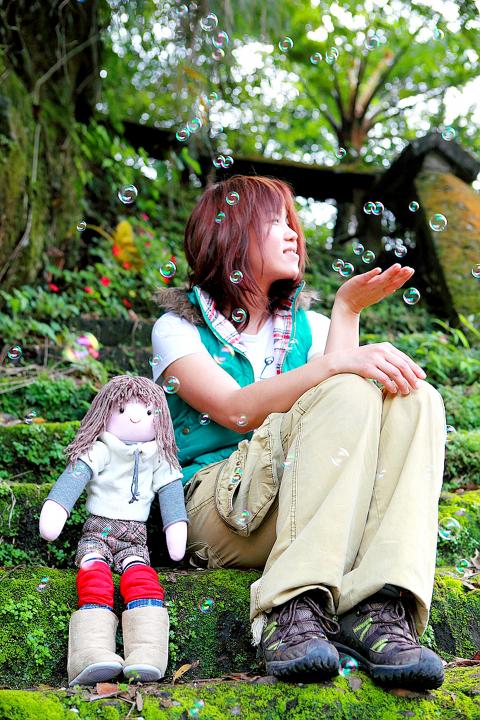 Lin Shu-fang, a resident of New Taipei City's Shihding District, sits next to one of the dolls that she makes from socks on March 2. Lin says needlework, choice of materials and design are essential to making a good doll.
Photo: CNA
Lin said she felt it was not right that young people all want to move to the cities to seek employment, leaving rural areas filled with children and elderly people.
"My staying here is in part an obligation; I was born and bred in Shihding, and I should do something for it in return," she said.
While volunteering to teach immigrants how to sew at a immigrant's learning center at Yongding Elementary School, Lin found a book on how to sew sock puppets.
"I remember the day I started sewing my first puppet by following the book's instructions — April 4, 2008 — and since that first one I've been completely hooked," Lin said, adding that it had marked the start of a new career in doll-making.
Believing that her creations could stimulate the tourist market in her hometown, Lin said, she set everything else aside, returned to Shihding, and cleared a section of her parents' house to set up shop. Lin spent a lot of time honing her skills.
"The needlework, materials and the design are essential to making a good doll," Lin said, adding that factors such as how much stuffing is used and the form of the stitches that make the eyes all affect the sort of expression the finished doll wears.
The pliability of the socks also poses difficulties in trying to stitch the required expression on a doll's face, Lin said, adding that she enjoys the challenge, as it stretches her creative skills.
As her parents' house sits on the town's old street, Lin put up a notice on the outside wall in the hopes of maximizing her products' exposure: "Here socks are more than socks; they have a life of their own."
Meanwhile, Lin's dream of promoting Shihding seems to be slowly becoming reality.
Shihding District Office head Wu Chin-yin (吳金印) said Lin's dolls have become a major attraction on the old street, adding that it is difficult for tourists to miss the brightly colored store.
The city government is also considering various plans to rejuvenate the town's historic streets, Wu added.
Looking back over the five years since she decided to return to Shihding, Lin said she has not regretted a single moment.
Even her parents — who at first questioned her decision — now proudly stand at the entrance to their house and entice potential customers, telling them: "These sock dolls are one of a kind; it is not easy to make them, and you will not find their kind anywhere else."
For every one of the more than 1,600 dolls that Lin has made in the past five years, each has a different purpose — such as a mobile phone dock — and she has a story for each of them. Lin also marks their "birth certificate" with their place of origin: "Shihding, Taiwan."
"Every sock doll that is sold to a tourist means one more person who knows about Shihding," Lin said, adding that she hopes to continue to be as productive as she has been over the past five years.
Lin said she hopes her experiences can be a guide for other young people who wish to pursue their dreams, adding that as long as people stay encouraged, and stay true to the path they have chosen, despite the obstacles, they will be able to realize their dreams.
Comments will be moderated. Keep comments relevant to the article. Remarks containing abusive and obscene language, personal attacks of any kind or promotion will be removed and the user banned. Final decision will be at the discretion of the Taipei Times.