See-through pants from Taiwan lead to embarrassment
A shipment of expensive women's yoga pants from Taiwan has shaken leading North American fashion company Lululemon Athletica by being virtually see-through.
They were pulled from the shelves this week and the company has cut its first-quarter sales forecast by US$20 million.
It is not clear who is to blame and a full investigation is underway.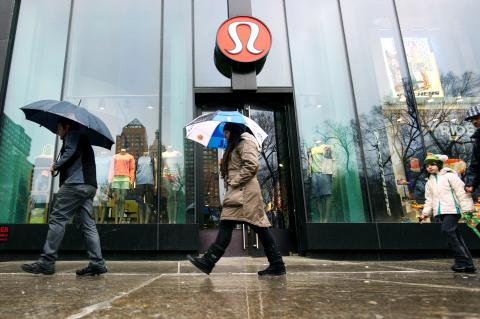 Pedestrians walk past a Lululemon Athletica store in New York on Tuesday. The Taiwanese supplier behind the see-through yoga pants recalled by Lululemon Athletica Inc said on Tuesday that it had followed design specifications.
Photo: Reuters
Based in Vancouver, Canada, Lululemon Athletica Inc — a US$1 billion business selling yoga clothing — has the pants made by Eclat Textile Co (儒鴻) in Taiwan.
However, after going on sale this week, the pants were found to be far too risque. Customers who had already bought a pair were being offered a full refund.
To give some indication of the scale of the error, shares of Lululemon fell 4.6 percent to US$64.38 on Tuesday.
The black pants are normally one of the biggest-selling items in the company's large chain of stores throughout Canada and the US.
Retail analysts are now complaining that the company has not been controlling its supply chain tightly enough.
The Wall Street Journal is quoting analysts as saying they are concerned Lululemon "does not have the appropriate presence in and around its factories."
They say it appears there is not "appropriate oversight in place."
However, the Journal quoted Eclat chief financial officer Roger Lo as saying there was nothing wrong with the clothing it shipped.
"All shipments to Lululemon went through a certification process which Lululemon had approved," Lo said. "All the pants were manufactured according to the requirements set out in the contract with Lululemon."
A Lululemon executive said the company was still trying to determine the cause of the problem and that a company official was currently at the Eclat plant in Taiwan.
Lululemon has suffered a series of problems over the past year, including one in which women's yoga tops bled color.
News agencies in the US quoted Lo as saying that his company had followed Lululemon instructions in making the pants.
He said that it was only after the pants went on sale that Lululemon found that customers were not "comfortable with the opacity."
Yesterday Eclat said Lululemon should clarify whether the product it recalled was produced by Eclat or another company.
Lululemon did not cut orders with Eclat, neither, the company said, adding the fabric it produce was in accordance with Lululemon's demand.
Additional reporting by Camaron Kao
Comments will be moderated. Keep comments relevant to the article. Remarks containing abusive and obscene language, personal attacks of any kind or promotion will be removed and the user banned. Final decision will be at the discretion of the Taipei Times.