Chinese visitors biggest spenders in Taipei: survey
Chinese visitors were the biggest contributors to Taipei's tourism market, spending an average of US$356 per day, followed by tourists from Japan and Singapore who spent US$254 and US$189 respectively, a Taipei City Government survey showed.
Average spending by foreign tourists in Taipei was US$251 per day. Local specialty products, clothing and jewelry were the top three items on foreign travelers' shopping lists, according to the survey conducted between July and December last year, which polled 1,832 foreign visitors.
Taipei City Department of Information and Tourism Commissioner Chao Hsin-ping (趙心屏) said souvenir shops, such as those that sell pineapple cakes and Taiwanese tea, have thrived thanks to increased spending by foreign tourists.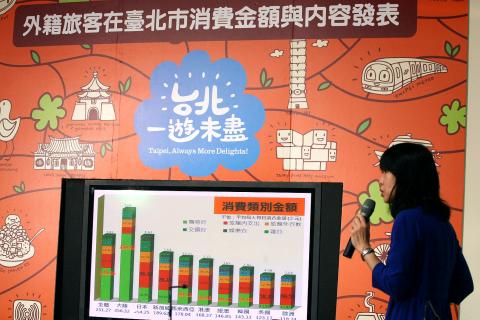 Taipei City Department of Information and Tourism Chao Hsin-ping Commissioner uses a bar chart at a press conference in Taipei yesterday to show a breakdown of spending by overseas visitors from various countries.
Photo: CNA
Republic of China Travel Agent Association secretary-general Roger Hsu (許高慶) said that aside from local specialties, Chinese tour groups also purchased coral products and brand watches, while tourists from Japan, Hong Kong and Macau preferred tea sets and handicrafts.
A closer look at daily consumption by foreign tourists also showed that visitors from Japan, Singapore, the US and Europe were willing to invest more on accommodation, with Japanese visitors spending about US$96 per day, while Chinese tourists only spent US$25.
Hsu agreed with the results of the survey, saying that most Chinese visitors come in tour groups and shopping is a major part of their trips. Visitors from Japan, Singapore and the US, on the other hand, tend to have higher expectations about hotel accommodation.
"As the government plans to increase the number of individual Chinese tourists allowed to visit each day, the consumption habits of Chinese tourists may change in the future," he said.
At present, Chinese tourists arriving in tour groups are capped at 4,000 people per day, while those arriving as free independent travelers (FIT) are capped at 1,000.
The government plans to increase the number of group Chinese tourists to 5,000 per day and FITs to 2,000.
Of the 6.4 million foreign visitors to Taipei last year, Chinese tourists accounted for 2.5 million, followed by Japanese tourists at 1.3 million.
Comments will be moderated. Keep comments relevant to the article. Remarks containing abusive and obscene language, personal attacks of any kind or promotion will be removed and the user banned. Final decision will be at the discretion of the Taipei Times.