Hospital unveils mobile payment and data app
People can now use their smartphones to pay medical registration fees and check for details on prescribed medication using
a new medical feature of a mobile banking app, National Taiwan University Hospital (NTUH) announced yesterday at a press conference.
The hospital has been working on the development of the feature integrated in a mobile banking application with Taiwan Cooperation Bank (TCB) for several months.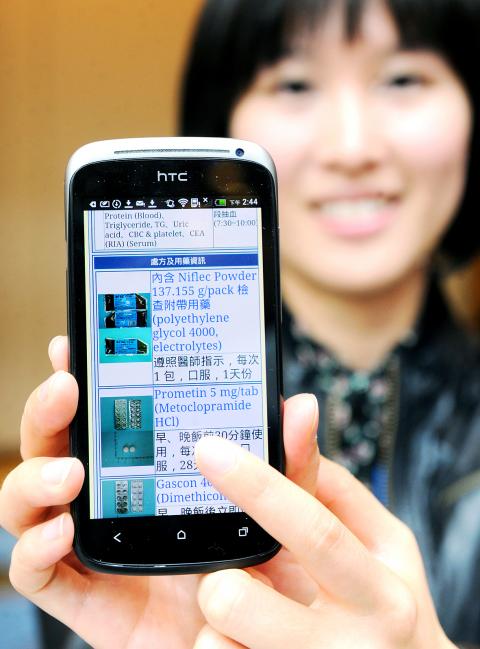 A woman shows a new smartphone app in Taipei yesterday. The app, which was developed by Taiwan Broadband Communications and National Taiwan University Hospital, allows Taiwan Broadband Communications customers to pay medical registration fees and check for details of prescribed medication online.
Photo: Lo Pei-der, Taipei Times
The feature was launched yesterday with a goal of streamlining payments which are normally taken by hospital cashiers.
It also makes information on patients' appointments, examinations and prescriptions more accessible, NTUH vice superintendent Wang Ming-chu (王明鉅) said.
Wang said elderly people and patients with chronic diseases could benefit from the new service. The nation's population is rapidly aging and patients with chronic diseases need to take medications on a regular basis, Wang added.
"With the TCB mobile banking app's medical feature, patients are saved the hassle of waiting in line to pay fees. In addition, the app provides patients easy access to three-month clinic visit records, prescribed medication and usage guides," Wang said.
As for privacy issues, TCB vice general manager Chen Mei-tsu (陳美足) said that the app requires users to apply for certificate-based passwords at the bank's branches.
"TCB is the first in the nation to implement this kind of security for mobile banking," Chen said.
However, the bank needs to observe the Personal Information Protection Act (個人資料保護法) as it works toward storing electronic medical records. Therefore, it might take some time before this element is completed, Wang said.
At present, medical reports will not available in the app to ensure that patients are not distressed by seeing reports in the absence of doctors' explanations and consultation and to prevent data loss, Wang said.
Comments will be moderated. Keep comments relevant to the article. Remarks containing abusive and obscene language, personal attacks of any kind or promotion will be removed and the user banned. Final decision will be at the discretion of the Taipei Times.