Taipei set to reduce garbage bag fees
PARK LIFE: Taipei Mayor Hau Lung-bin announced the fee reduction after a visit to a landfill site which is currently being transformed into a recreational park
The Taipei City Government will reduce the fee for garbage bags from NT$0.45 per liter to NT$0.36 starting next month, Taipei Mayor Hau Lung-bin (郝龍斌) said yesterday, citing the policy's effects on lowering the volume of garbage in Taipei.
Under the new policy, a family of five that produces about seven liters of garbage per day could save nearly NT$20 in garbage bag fees per month. On the other hand, the city treasury will lose about NT$70 million (US$2.3 million) per year because of the policy.
Hau said the volume of daily household garbage has dropped from 2,970 tonnes to 986 tonnes since the policy was imposed in 2000, and the 67 percent decline in garbage volumes in Taipei has decreased the usage of refuse incinerators.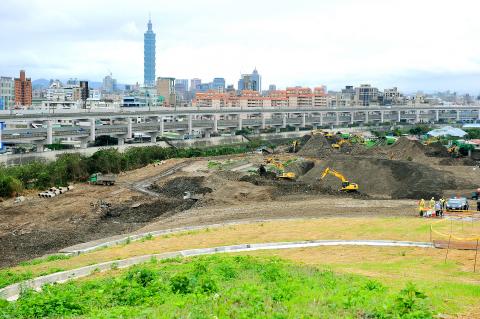 Excavators dig refuse out of the "Neihu Garbage Mountain" landfill site in Taipei yesterday. The site is to be remodeled into a recreational park.
Photo: Chien Jung-fong, Taipei Times
"Taipei residents have been very cooperative with garbage recycling and reduction work. Thanks to their efforts, the city's garbage volume has been greatly reduced, and we only need to use one of the three refuse incinerators every day to process the garbage," he said yesterday during an inspection of a facility in the city's Neihu District (內湖).
Taipei was the first city in the nation to adopt a garbage fee collection system in which residents have to purchase the city government's official bags, the price of which includes the disposal fee.
New Taipei City (新北市) preceded Taipei in reducing the garbage bag fee from NT$0.42 per liter to NT$0.40 per liter last year, prompting many Taipei City councilors to urge the city to follow suit.
Chinese Nationalist Party (KMT) Taipei City Councilor Chen Yu-mei (陳玉梅) yesterday described the fee reduction as delayed justice, and said the city government should further lower the fee if garbage volumes continue to fall.
Hau announced the policy after an inspection of the landfill.
The landfill, commonly known as the "Neihu Garbage Mountain," was closed in 1985, and a project to clean up the 15 hectare site began in 2006.
Hau said yesterday that the clean-up will be completed in June, and the site will be transformed into a recreational park by the end of this year with facilities including bike lanes and an eco-embankment.
"The Neihu Garbage Mountain was an environmental disgrace in Taipei. However, we will transform the landfill into the green lung of Taipei," he said.
Comments will be moderated. Keep comments relevant to the article. Remarks containing abusive and obscene language, personal attacks of any kind or promotion will be removed and the user banned. Final decision will be at the discretion of the Taipei Times.