FEATURE: Military police to relax tattoo ban
KEEPING WITH THE TIMES: The move is in line with social and cultural attitudes, which have changed over time, but tattoos are not allowed to be on highly visible body parts
The military police (MP) has this year started allowing recruits to have tattoos, a move the Ministry of National Defense hopes could help attract more recruits when military service becomes solely voluntary.
"Tattoos used to be associated with gangsters, who used them to show their gang affiliation," said a senior official, who declined to be named. "However, it is now a part of popular culture and the ministry has therefore decided to allow recruits for volunteer military service to have tattoos."
"However, the policy applies only to tattoos that are not on the recruit's face or other highly visible parts of the body," the official added.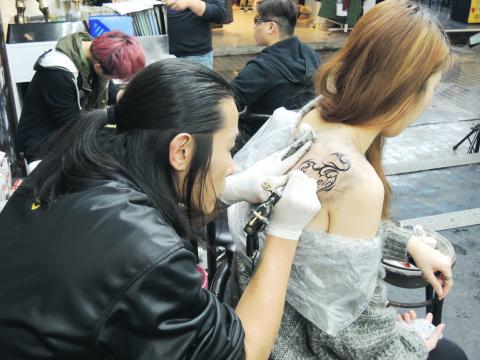 A tattoo artist tattoos a young woman at Taipei's Ximending area on Jan. 12.
Photo: Lo Tien-pin, Taipei Times
Cheng Sheng-yang (鄭昇陽), the director of the Military Police Command's Political Warfare Department, said that the tattoos may also not be larger than 3cm in diameter.
People with tattoos that do not meet these conditions will not be eligible for the military service program, he added.
There was a lot of deliberation over the setting of an allowable tattoo size, but 3cm was chosen because "it will not be very visible from a distance and from a closer range could be mistaken for something else, like a bruise," Cheng said.
The relaxing of the military police's policy on tattoos is in line with current cultural and social attitudes, which are very different from those in the past, he added.
While the military is taking a new approach toward tattoos on servicepeople and officers, it does not want its servicepeople and officers to have tattoos expressing political or discriminatory messages, ministry officials added.
The officials added that while the ban on tattoos for military police officers has been relaxed, it is still in place for those in eight other branches of military service units: the National Security Bureau, the Military Intelligence Division, the Honor Guards, the Military Marching Band, the Political Warfare Department, the Military Legal Affairs Section, the Coast Guard Administration and the Marine Corps Amphibious Reconnaissance and Patrol Unit.
Chinese Nationalist Party (KMT) Legislator Lu Hsueh-chang (呂學樟), who served in the military police, approved of the ministry's decision.
"Many young people are into tattoos these days," he said. "Most get them because they are curious or following popular trends … It should be accepted by the millitary, as long as the tattoos are not too big."
While saying that he is happy to see the military making adjustments to fit in with changing social norms, he added that "to join the MP, having a clean family background is extremely important."
"MPs are responsible for regulating conduct and ethics within the military and are sometimes required to conduct special missions, so the background of anyone applying to enter military police units is thoroughly investigated," he said.
KMT Legislator Chen Ken-te (陳根德), who is also chairman of the Reserve Military Police Association of Taoyuan County, said tattoo enthusiasts comprise a subculture of society and therefore it would be a problem if a military police officer has tattoo.
"The most important thing is making sure that people signing up for the MP units have clean backgrounds and no connections to criminal activity," he said.
Lee Yao-ming (李耀鳴), a renowned tattoo artist, said that because of prevailing social trends, it is unavoidable for the military to relax the ban if it wants volunteers.
Lee added that he hopes all sectors of society can adopt a good attitude toward tattoos.
Lee, who is the chairman of a tattoo artists' union in Taipei, said that Taiwanese youth are catching up with Europeans and North Americans, thus it is quite normal for young Taiwanese to have tattoos these days.
"Organizations in other countries even have their own tattoo logos," he said. "For example, the US military's SEAL units have a special tattoo for their members. Also, after the Sept. 11, 2001, attacks on the US, many US firefighters got commemorative tattoos to remember their fallen comrades."
"Taiwanese used to have a strong, negative impression of people with tattoos, but over these past seven to eight years, our society has become more open-minded," he said.
He said that the military has also become more open-minded in recent years, saying that many of his customers are commissioned officers who wanted a tattoo to commemorate special occasions such as completing training, or retirement.
Some came to get a tattoo on their own, while other got their tattoos done as a group, he added.
Comments will be moderated. Keep comments relevant to the article. Remarks containing abusive and obscene language, personal attacks of any kind or promotion will be removed and the user banned. Final decision will be at the discretion of the Taipei Times.