Wang reiterates call for TIFA talks to resume
Taiwan is looking forward to a resumption of trade talks with the US, Legislative Speaker Wang Jin-pyng (王金平) said on Sunday upon arriving in Washington.
Wang, who was leading a Taiwanese delegation to US President Barack Obama's second-term inauguration, said Taiwan was grateful for Obama's support for its national cause and looked forward to resuming trade talks with the US under the bilateral Trade and Investment Framework Agreement (TIFA) as soon as possible.
"We also hope the Obama administration will help Taiwan join the Trans-Pacific Partnership [TPP]," Wang said at a dinner party hosted by Taiwanese expatriate groups in honor of the delegation.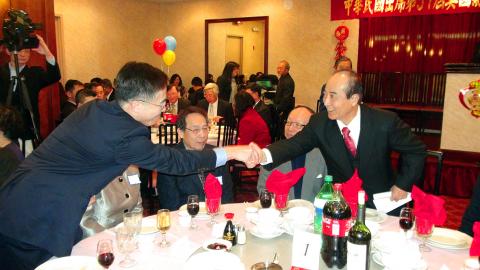 Legislative Speaker Wang Jin-pyng shakes hands with a man during a banquet held after arriving in Washington on Sunday. Wang is leading a Taiwanese delegation to discuss trade matters and attend US President Barack Obama's second-term inauguration.
Photo: CNA
Talks under TIFA, which was signed in 1994 to serve as a framework for Taiwan-US dialogue on trade-related issues, have been suspended since 2007 due to US' dissatisfaction with Taiwan's restrictions on imports of US beef products.
Wang said that although discussions had been held on resuming TIFA negotiations, he hoped the process could be accelerated because the TIFA platform was important to bilateral investment and economic cooperation.
Wang said that the US is Taiwan's most important ally in the international community and that relations between the two nations have made great strides over the past four years under President Ma Ying-jeou's (馬英九) "low-profile, surprise-free" approach to bilateral engagements.
"Progress has been made on exchange visits by high-level officials, on arms sales, trade and economic cooperation, as well as on support for Taiwan's participation in international organizations," Wang said.
Taiwan's admission to the US Visa Waiver Program last year was yet another milestone in bilateral ties, he added.
"We look forward to further upgrading of Taiwan-US engagements and cooperation in the years ahead," the speaker said.
Wang, who was to attend Obama's inauguration ceremony yesterday at the US Capitol on behalf of Ma, said he had come to Washington to warmly thank Obama for his support for Taiwan.
"Despite the chilly weather in the US capital, I and all the delegation members will attend the four-hour outdoor ceremony in an upbeat mood," Wang added.
The delegation includes lawmakers from the ruling and opposition parties as well as Chinese Nationalist Party (KMT) Vice Chairman John Chiang (蔣孝嚴).
Comments will be moderated. Keep comments relevant to the article. Remarks containing abusive and obscene language, personal attacks of any kind or promotion will be removed and the user banned. Final decision will be at the discretion of the Taipei Times.