Su voices support for nuclear referendum
Democratic Progressive Party (DPP) Chairman Su Tseng-chang (蘇貞昌) yesterday campaigned in New Taipei City (新北市) for a referendum in the city on nuclear power, suggesting it could be combined with local elections scheduled to be held late next year.
Speaking at a press conference at New Taipei City Council, Su reiterated the DPP's full support for the referendum initiated by former vice president Annette Lu (呂秀蓮) and urged New Taipei City Mayor Eric Chu (朱立倫) of the Chinese Nationalist Party (KMT) to join the cause.
The referendum proposal, which is still in the signature collection phase, aims to stop the construction and operation of the Fourth Nuclear Power Plant in New Taipei City's Gongliao District (貢寮).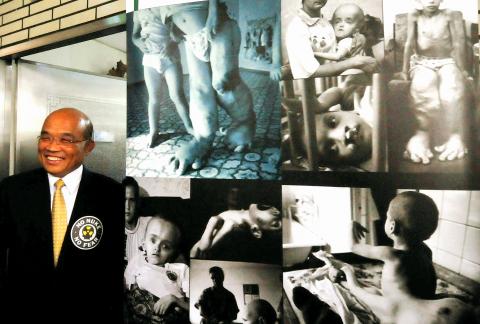 Democratic Progressive Party Chairman Su Tseng-chang arrives at an anti-nuclear press conference in New Taipei City yesterday.
Photo: Mandy Cheng, AFP
A recent opinion poll conducted by the DPP found that 57.2 percent of respondents supported a halt to nuclear power development and 54.6 percent of those polled supported suspending construction of the Fourth Nuclear Power Plant, Su said.
A "nuclear-free homeland" is one of the DPP's most important policies, Su said, adding that the party had established a milestone by breaking the KMT's decade-long attempt to block the DPP's proposed law on the promotion of a nuclear-free Taiwan in the legislature after placing the proposal on the legislative agenda on Jan. 9.
The DPP would try to work toward the goal by enacting related laws in the Legislative Yuan and New Taipei City Council, as well as promoting the referendum as a civic movement.
The combination of the referendum on nuclear development in New Taipei City and local elections next year would bring down the cost of the referendum for the government, Su said, adding that the initiative was not made under the presumption that the combination would benefit the DPP.
Su said his party hoped to collaborate with Chu, who had previously expressed his support for boosting nuclear safety.
According to Lu, her office had received 30,213 petition letters as of Friday, considerably more than the minimum of 16,000 required to submit a referendum proposal. However, it will need to attract considerably more support in the second phase, which requires 160,000 signatures in six months for a referendum to be held.
Comments will be moderated. Keep comments relevant to the article. Remarks containing abusive and obscene language, personal attacks of any kind or promotion will be removed and the user banned. Final decision will be at the discretion of the Taipei Times.