Groups call for resolution of PTS nominees process
PUBLIC INTEREST: Saying that board nominees were unrepresentative of wider society, critics questioned connections to the Want Want China Times Group
Media reform groups yesterday urged members of the review committee for the new board of directors at Public Television Service (PTS) to complete the evaluation of nominees quickly, adding that each nominee should be evaluated using three criteria.
The committee is scheduled to review the 15 nominees for PTS' board of directors tomorrow.
Last year, Minister of Culture Lung Ying-tai (龍應台) nominated 14 individuals to serve on the board. However, only three of them passed the review process.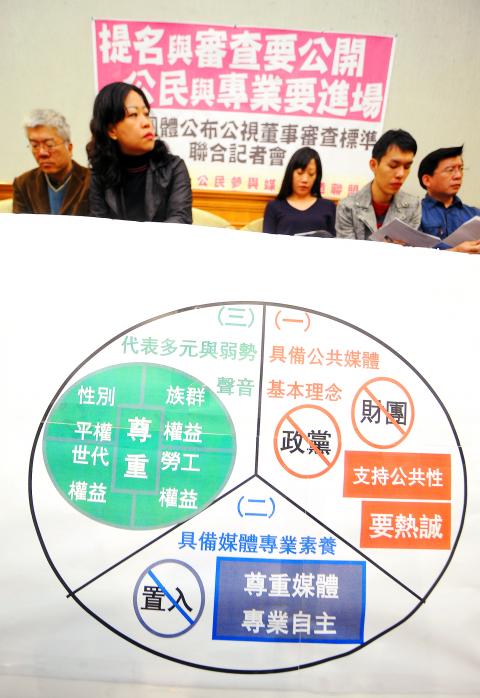 Representatives from a media reform group hold a press conference at the Legislative Yuan yesterday, calling on the government to nominate better candidates for Public Television Service's board of directors.
Photo: Liu Hsin-de, Taipei Times
The Public Television Act (公視法) stipulates that the board can only function when there are between 17 and 21 directors.
Currently, there are only eight, including the three that passed the review process last year, meaning the board has not been able to function for more than two years, as it lacks sufficient numbers.
Lung said she hoped that at least nine candidates would pass the review process.
Citizens for Media Reform representative Yeh Ta-hua (葉大華) said that the members of the review committee are recommended by different caucuses in the legislature. However, they should evaluate each candidate without any political agenda, based on the person's professionalism and how representative they are of society.
Yeh said nominees should be judged on whether they have a basic understanding of public media, whether they have high professional media standards and whether they support or represent underprivileged people.
Aside from those criteria, Yeh said the new board of directors should also establish a mechanism through which the public can supervise public TV.
Campaign for Media Reform representative Chiu Chia-yi (邱家宜) said that they were dissatisfied with the list of nominees because it lacked representatives of groups advocating sexual equality, human rights, child welfare, and youth or labor groups. Chiu said that only one of the nominees has paid attention to issues affecting recent immigrants.
Association of Taiwan Journalists chairwoman Chen Hsiao-yi (陳曉宜) questioned the suitability of one of the nominees, former Want Want China Times Group general manager Huang Chao-sung (黃肇松), as Huang had told an academic seminar in 2005 that he believed media personnel and journalism professors would all accept product placements, saying: "You can't talk about ideals when you cannot even survive."
Asked whether Soochow University adjunct professor of law Nigel Li (李念祖) was fit to be a board director because he had been a defense attorney for the Want Want China Times Group, Chen said members of the review committee would have to ascertain his relationship with the media group.
Li told a press conference hosted by the Ministry of Culture that he has defended the Want Want China China Times Group for 20 years and has deep connections to the group. However, he said his representation of the group would not affect his role as a director.
"As a lawyer, I represent the entire group, not any individual," Li said. "Should I need to withdraw from the review of any case to avoid a conflict of interests, I would not hesitate to do so."
Huang said that he wanted to contribute his forty years of experience in media to the board of PTS.
"I disagree with product placement and it should not exist," he said. "For PTS, I think there should only be 'public interest' placements."
The nominees are: Nigel Li (李念祖), National Taiwan University journalism professor Lin Li-yun (林麗雲), writer Hou Wen-yung (侯文詠), former athlete Chi Cheng (紀政), Spirox Education Foundation board director Ginger Chiang (姜雪影), 4-Way Voice chief editor Chang Cheng (張正), WNET New York Public Media deputy chairwoman of the board Chen Chien-yu (陳倩瑜), former model and John Tung Foundation lifetime volunteer Chen Shu-li (陳淑麗), PTS research fellow Hamilton Cheng (程宗明), film director Doze Niu (鈕承澤), Huang Chao-sung (黃肇松), former Taipei City cultural affairs director Liao Hsien-hao (廖咸浩), PTS chairwoman Chao Ya-ly (趙雅麗), National Chengchi University journalism associate professor Liu Chang-de (劉昌德) and former radio broadcaster Liu Ming (劉銘).
Comments will be moderated. Keep comments relevant to the article. Remarks containing abusive and obscene language, personal attacks of any kind or promotion will be removed and the user banned. Final decision will be at the discretion of the Taipei Times.