Hsinshu commissioner apologizes for fire death'
LACK OF EQUIPMENT: A 62-year-old man died shouting in a blaze after firefighters' ladder truck could not reach his building and an inflatable mattress was left behind
Hsinchu County Commissioner Chiu Ching-chun (邱鏡淳) yesterday apologized after a man burned to death while firefighters stood by helplessly on Tuesday night, creating a major political storm for the county government. He also transferred a top official in charge of firefighting.
Lin Jung-mao (林榮冒), the owner of an apartment in a building in Hsinchu's Sinpu Township (新埔), ran to a fifth-story window in a bid to escape the fire.
As the flames closed in, the 62-year-old spent 15 minutes at the window calling out to firefighters to rescue him.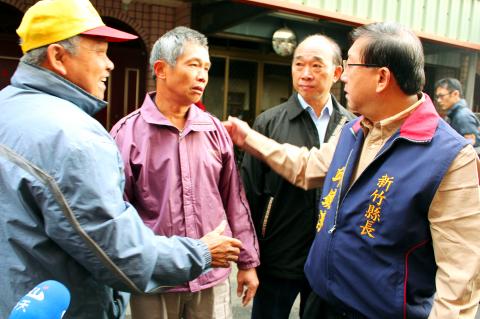 Hsinchu County Commissioner Chiu Ching-chun, right, yesterday apologizes to the family of a person who died in a fire in Sinpu Township on Tuesday for not being able to fight the fire more effectively.
Photo: Huang Mei-chu, Taipei Times
However, the 45 firefighters and police officers at the scene were unable to reach Lin.
Together with a crowd of bystanders, they watched Lin become engulfed in flames and burn to death.
"Why were rescue efforts so slow? There was a chance to save him, but he burned to death while everyone watched!" said Lin's wife, who witnessed her husband's death, as she wept and bitterly denounced the firefighter's lethargic actions.
The tragedy is being called Hsinchu County's own "Pachang Creek Incident" (八掌溪事件), in reference to an incident in July 2000 in Chiayi County when four workers were swept away by a flash flood after struggling for two hours to stay upright in the raging waters, as reporters and TV crews broadcast live from the site, because local fire department rescuers did not have the equipment to save them.
That tragedy led to the resignation of then-vice premier Yu Shyi-kun (游錫堃) and was a major blow to the new Democratic Progressive Party administration.
Sinpu Township firefighters said their fire engine that had an aerial ladder could not reach the building because of the narrowness of the lane, while their aluminum ladders could only reach the second floor.
Lin's family have complained that there should have been an inflatable mattresses for Lin to jump to, but according to news reports, the firefighters had forgotten to bring the mattress with them.
Trying to assuage the public anger over the tragedy, Chiu and fire bureau officials went to the funeral hall, where they apologized and admitted that numerous mistakes were made by the rescuers.
Overcome by grief, Lin's wife fell weeping in front of Chiu, demanding to know why no one was able to save her husband.
Chiu said he was sorry about the tragedy and that the Hsinchu County Government would not avoid its responsibilities.
He said Hsinchu Fire Bureau director Wu Wu-tai (吳武泰) had been transferred to a non-executive position.
The commissioner also said he held a meeting yesterday afternoon to discuss the incident, during which participants held a minute of silence for Lin.
Additional reporting by CNA
Comments will be moderated. Keep comments relevant to the article. Remarks containing abusive and obscene language, personal attacks of any kind or promotion will be removed and the user banned. Final decision will be at the discretion of the Taipei Times.