Teacher inspires fashion students
PASSION FOR FASHION: The 82-year-old has inspired famous designers and written a number of books which have become standard textbooks for design students
In a classroom used by the Shih Chien University's Fashion Design Department, the 82-year-old Hung Su-shin (洪素馨) stared intently at a mannequin, and then, with a few swift stitches, transformed the loose cloth hanging on the mannequin into the sleeve and collar of a shirt. The students watched closely, with some occasionally taking pictures or recording the process on their mobile phones.
The class, called "Drape and Design," had already exceeded its allotted three-hour time slot and was well into its fifth hour, but neither Hung nor the students in front of her seemed tired or showed signs of wanting the class to end.
A passionate fashion design teacher for five decades, Hung insisted on continuing her career even after being diagnosed with spondylolisthesis and having to wear a special jacket to keep her back straight.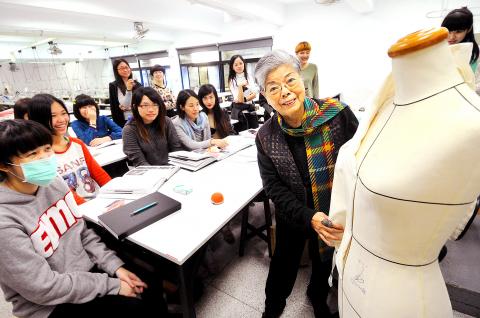 Students watch 82-year-old teacher Hung Su-shin pin cloth on a mannequin during a fashion design class at Shih Chien University in Taipei on Dec.13 last year.
Photo: Fang Pin-chao, Taipei Times
"No matter how tired I am, when I stand before a class, I immediately forget [about my condition]," Hung said, adding that her life seemed to have no focus when she was not teaching.
"It is not just a hobby; it is my passion," Hung said.
Hung said that she discovered her passion for sewing and fashion design at the age of 17, marking a major turning point in her life.
"During World War II there was a shortage of all resources; even school uniforms had to be rationed," Hung said.
"I had just one uniform, with no spares, and the cloth to make the uniforms was unavailable," Hung said, adding that she had used the fabric from her mother's clothes to make an extra uniform after asking neighbors to teach her how to sew.
"I draped newspaper over myself to create a pattern using myself as a mannequin, and sewed the cloth in front of a mirror," Hung said.
"It was then that I became interested in the industry," Hung said, adding that friends and family members had been astonished by her creations and asked her to make clothes for them as well.
"Making a pattern is usually something that comes to you with experience, but by using mathematical principles, I can make a lot of adjustments," Hung said.
Over the past five decades, Hung has inspired many students to become teachers themselves.
She has become so respected in her field that even renowned designers such as Pun Dai-lee (潘黛麗) and Sophie Hong (洪麗芬) have sought her expertise.
Hung has also written a number of books that have become standard textbooks for fashion design students.
Hung said she felt both proud and nostalgic about her students and teaching career.
"When I was teaching the fourth-year college classes, they were almost always in the lead. My classes once won five out of six awards in the school's graduation show. It was a happy moment; it was even better than getting the award myself," she said,
When asked what dreams she still had, Hung smiled and pointed at the students in front of her.
"I have always been a teacher; I want to use the limited time I have left to pass on my experiences to the next generation. I also hope that all of them will one day gain international recognition."
Comments will be moderated. Keep comments relevant to the article. Remarks containing abusive and obscene language, personal attacks of any kind or promotion will be removed and the user banned. Final decision will be at the discretion of the Taipei Times.