Hundreds brave bad weather for flag-raising ceremony
Waving national flags and dressed in creative costumes, hundreds of people yesterday attended the annual flag-raising ceremony in front of the Presidential Office in Taipei, ushering in the new year by singing the national anthem.
Long before the festivities began at 6:30am on Ketagalan Boulevard, people started to gather in the plaza to watch the ceremony, which this year was held amid tight security measures.
The venue was surrounded by police and security guards to block protestors from a sit-in rally against media monopoly. The protestors, mainly university students, were kept separate from the ceremony by police officers carrying riot shields.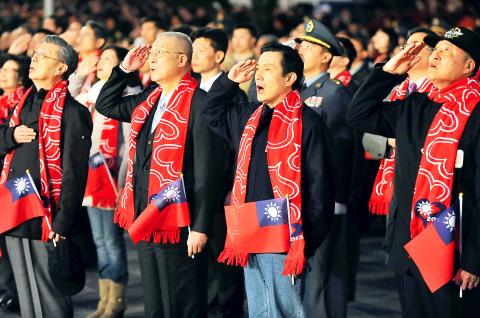 Premier Sean Chen, first from left, Vice President Wu Den-yih, second from left, and President Ma Ying-jeou, third from left, sing the national anthem and salute the national flag during a New Year's Day flag-raising ceremony at the Presidential Office Square in Taipei yesterday.
Photo: Mandy Cheng, AFP
People attending the ceremony were required to go through metal-detector doors and pass security checks before they were allowed to enter the venue.
The tight security checks did not seem to affect the mood of the spectators, as they cheered, sang and danced to celebrate the arrival of the new year.
"It's exciting to celebrate the new year with a flag-raising ceremony. Everyone is so passionate here and we don't feel cold at all," a young woman said.
A military marching band comprised of 120 members of the three armed forces performed music and military drills to the delight of the spectators. Two giant hot-air balloons were sent aloft as a blessing for the nation's prosperity.
Leading the top government officials attending the ceremony, President Ma Ying-jeou (馬英九) said the hot-air balloons carried the people's dreams and the government's promises, as he pledged to bring peace and prosperity to the nation in the new year.
"In my inauguration speech on May 20 last year, I pledged to begin reforms and bring happiness to Taiwan. My administration and I continue to regard the happiness of the people as our top priority, and we will work harder this year to carry out our promises even when faced with setbacks and difficult situations," he said.
On a slightly inauspicious note, the two hot-air balloons fell to the ground shortly after being released because of strong winds.
Comments will be moderated. Keep comments relevant to the article. Remarks containing abusive and obscene language, personal attacks of any kind or promotion will be removed and the user banned. Final decision will be at the discretion of the Taipei Times.