Ex-Dutch diplomat back in Taiwan to launch fundraising CD for Siraya tribe
Former Dutch diplomat Menno Goedhart yesterday said that although he left Tainan to settle down in France, Taiwan is always on his mind.
Goedhart, dubbed "Mr Taiwan" or "the most Taiwanese ambassador" for his familiarity with and love of Taiwan, is in the country to promote a fundraising CD he co-produced and wrote to help the Aboriginal Siraya tribe.
He added that a lot of people have been speculating that his departure had something to do with the Tainan City Government, but he maintained that he was on good terms with Tainan officials.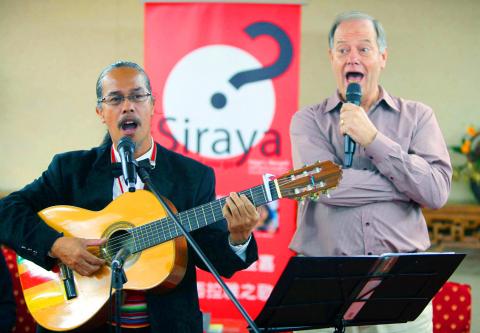 Former Dutch representative to Taiwan Menno Goedhart, right, sings with Philippine conductor Edgar Macapili at the launch of their fundraising CD Siraya, Where Did You Go? at the Tainan City Government offices yesterday.
Photo: CNA
Greater Tainan Mayor William Lai (賴清德) said the former diplomat's heart is still in Tainan and the city would invite him to act as its spokesman at future events.
Goedhart made his CD, titled Siraya, Where Did You Go?, with Edgar Macapili, a Philippine conductor married to a Taiwanese woman and now based in Taiwan. The 12 songs on the CD were written in the Siraya language, as well as in English, Chinese and Taiwanese by Goedhart and composed by Macapili.
Goedhart presented the first CD to Lai at a launch event yesterday and expressed the hope that the songs would lead people to pay more attention to Siraya culture, saying that the most important part of Taiwan is its aboriginal cultures. He added that he hopes the CD would sell 20,000 copies, as the proceeds will be used to fund initiatives to revitalize Siraya culture.
Goedhart, who served as the head of the Netherlands Trade and Investment Office in Taiwan for eight years, moved to Tainan after his retirement in August 2010. However, recent reports said Goedhart had left the country quietly, causing concern in diplomatic circles.
Goedhart was interested in tracing the history of his ancestors, who lived in Tainan and other parts of Taiwan from 1624 to 1662. During that period, some Dutch citizens married local Aborigines, mostly from the Rukai tribe.
In 2009, Goedhart visited Pingtung County's Wutai Township (霧台) along with about 40 Dutch expatriates living in Taiwan to meet the descendants of these mixed marriages. Because of his close friendship with the tribe, Goedhart was made an honorary chieftain under the name Ama Daganau.
Comments will be moderated. Keep comments relevant to the article. Remarks containing abusive and obscene language, personal attacks of any kind or promotion will be removed and the user banned. Final decision will be at the discretion of the Taipei Times.