Farmland revitalization to create 100,000 jobs: COA
BETTER RETURNS: The council encouraged farmers to grow import substitution crops or organic crops that are easier to sell, instead of letting their land lie fallow
The government's farmland revitalization project, which is set to begin in January, is estimated to revitalize 45,000 hectares of farmland and provide 100,000 job opportunities by 2016, Council of Agriculture Minister (COA) Chen Bao-ji (陳保基) said yesterday.
The council said the project would target fallow farmland, transform the industry's labor structure and expand agriculture to increase the nation's food self-sufficiency ratio.
"We have 50,000 hectares of farmland that lie fallow each year or are not producing any crops within the year," Chen said, adding that the policy would exclude owners of such farmland from receiving fallow farmland subsidies, unless they make use of the farmland for at least one season per year.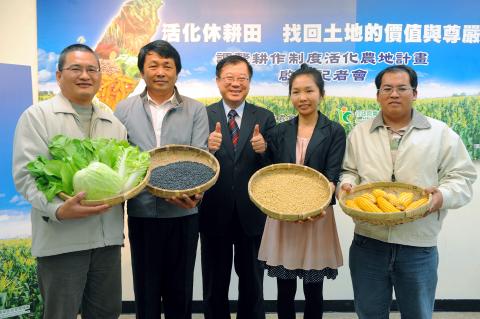 Council of Agriculture Minister Chen Bao-ji, center, gives the thumbs-up sign while standing next to people holding baskets of grains and vegetables at a media event in Taipei announcing the government's farmland revitalization project.
Photo: CNA
While landowners can still apply for one season of fallow farmland subsidies every year, he encouraged farmers to grow import substitution crops, export crops, organic crops or "regional specialty" crops that are easier to sell.
In response to many farmers' concerns about reduced incomes as a result of the policy, the council said if landowners could, for example, grow corn for animal feed or soybeans, they would still be able to collect a NT$45,000 (US$1,550) subsidy for every hectare of contracted farmland.
When combined with the additional income from selling the corn or soybeans, farmers would earn more under the new policy than from the fallow farmland subsidies, the council said.
Should landowners be unable to manage their land alone, the council said they could lease their land to other farmers through local farmers' associations.
Doing so would provide incomes for senior farmers, while providing young farmers or farming groups a chance to pursue farming, the council said.
"We hope to increase the value of Taiwan's farmland and recover the dignity of agriculture through this policy," Chen said.
The goal is to revitalize about 45,000 hectares of farmland and increase the food self-sufficiency ratio by 1.4 percentage points — from the current 33.5 percent to 34.9 percent in 2016, Chen said, adding that the policy is estimated to increase output value by about NT$8.8 billion and create about 100,000 job opportunities.
Comments will be moderated. Keep comments relevant to the article. Remarks containing abusive and obscene language, personal attacks of any kind or promotion will be removed and the user banned. Final decision will be at the discretion of the Taipei Times.