Taiwan takes 12 medals at Robot Olympiad
Taiwan won one gold medal, one silver medal and 10 other awards in the 2012 World Robot Olympiad in Kuala Lumpur, Malaysia, on Sunday, an award total second only to the host's 16-medal haul.
Under the theme "Robots Connecting People," this year's contest required teams to build robots that displayed an understanding of some element of human nature, from how people work in society to how they live, said officials from the Malaysian government, the main organizer of event.
A team composed of one student each from Taipei's Neihu Senior High School, Neihu Vocational High School and Zhongzheng Senior High School won the gold medal in the senior high-school section of the Regular Category.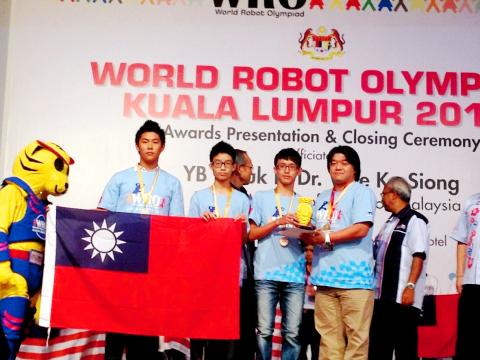 Students and their teachers pose with a national flag at the 2012 World Robot Olympiad in Kuala Lumpur, Malaysia, on Sunday.
Photo courtesy of the Taipei Department of Education
Another team from Kaohsiung Municipal Cianjhen Senior High School won the silver medal in same section, which was titled "Robot Van Gogh" and required participants to build a robot that could identify colors and quickly perform prescribed tasks.
Taiwan also came in second in the college event in the same category, which was a new addition to the competition. The college event was called "Robot Volleyed Over" and required participants to build a robot capable of righting upended ball crates and placing balls in specific places.
In the Open Category, Taiwanese students won eight prizes, including a fifth-place excellence award in the senior-high school event; an excellence award, a creativity award, a participants' choice award in the junior-high school event; and two excellence awards, a technical award and a creativity award in the elementary-school event.
Taiwan, which competed against 31 teams out of 405 from 30 countries, also placed fifth in a robot soccer contest at the finals of the competition that was held between Friday and Sunday.
This was the country's best performance yet in the robotics contest, which is now in its ninth year.
Comments will be moderated. Keep comments relevant to the article. Remarks containing abusive and obscene language, personal attacks of any kind or promotion will be removed and the user banned. Final decision will be at the discretion of the Taipei Times.