Public to vote on favorite sites
TOURISM HOTSPOTS: Two votes will be held, one an online poll for the public and the second where events are judged by industry professionals
The public has been invited to take part in an online vote hosted by the Tourism Bureau next month to select favorite tourist hotspots to be promoted domestically and internationally.
The bureau is dividing up tourist spots suggested by local governments into international, national, cross-county/city and local categories.
The events that are chosen as international events will be listed alongside the Taiwan Lantern Festival, Taiwan Foods Exhibition, Taiwan Cycling Festival, the Hot Spring and Foods Carnival, as well as other international events organized by national scenic areas and municipal governments on the bureau's promotional calendar, the bureau said.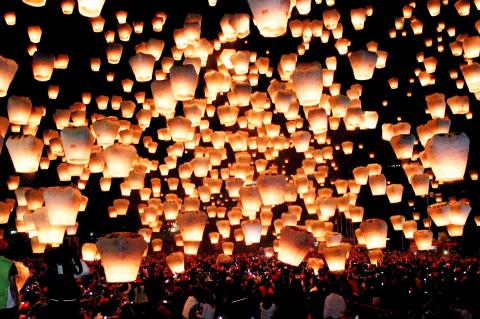 "Sky lanterns" rise into the skies over Pingxi District of New Taipei City in this photograph released on Wednesday. First held in 1999, the Pingxi Sky Lantern Festival during the annual Latern Festival holiday has been named by Discovery Channel as the world's second-largest carnival.
Photo courtesey of the Tourism Bureau
The determination of which event goes onto the calendar is two-tiered — one the online poll and one where the events will be judged by professionals.
The public's votes will account for 20 percent of the final decision, while the experts and professionals' vote will count for 80 percent, the bureau said.
According to the bureau, more than 20 counties have submitted their choices, totaling more than 45 events.
After deliberation by a team of panelists, 29 events have been selected for the final round.
They include the "Qiang Gu" (搶孤) — a folk competition that is part of the annual ghost festival — in Yilan's Toucheng (頭城); the New Year count-down party in Taipei and the Sky Lantern Festival in New Taipei City's (新北市) Pingsi (平溪).
Others include the International Matsu Cultural Tourism Festival in Greater Taichung, the Yenshui Beehive Fireworks Festival (鹽水蜂炮) in Greater Tainan and Hualien's International Stone Sculpting Festival.
Yilan County, New Taipei City, Hsinchu County, Greater Tainan, Greater Kaohsiung and Pingtung County each have two events entering the final round.
Scenic hotspots from Chiayi and Lienchang counties were missing from the list.
However, the bureau said the two counties are home to the Alishan (阿里山) and Matsu national scenic areas respectively, which are already nominated by the bureau for international events, so there was no need to list more.
Comments will be moderated. Keep comments relevant to the article. Remarks containing abusive and obscene language, personal attacks of any kind or promotion will be removed and the user banned. Final decision will be at the discretion of the Taipei Times.