Lawmakers want Orchid Island probe
FIGHTING BACK: An official said that all maintenance and inspection of nuclear waste on Orchid Island has been carried out according to the AEC's regulations
Legislators yesterday demanded that the Atomic Energy Council (AEC) and state-run Taiwan Power Co (Taipower) immediately launch investigations into alleged malpractice concerning nuclear waste repackaging on Lanyu (蘭嶼, also known as Orchid Island) and conduct health examinations on the island's residents over fears of possible radiation leaks.
Democratic Progressive Party lawmakers Cheng Li-chiun (鄭麗君) and Lin Shu-fen (林淑芬) showed a video at a press conference in Taipei that they said showed Taipower's examination and repackaging of corroded waste drums was carried out in the open, which could lead to radiation leakage.
The company and the AEC have both said the entire examination and repackaging process was carried out in an enclosed area and there were no safety concerns.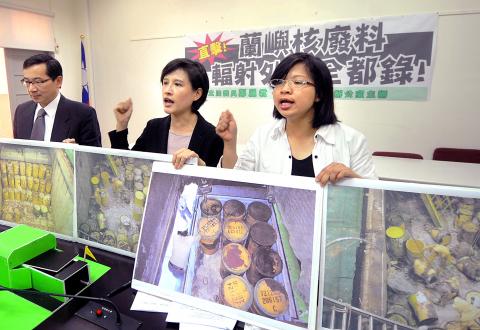 Democratic Progressive Party legislators Cheng Li-chiun, center, and Lin Shu-fen, right, hold up pictures of nuclear waste on Lanyu during a press conference in Taipei yesterday. They called on the Atomic Energy Council to investigate whether radiation leaks have occurred.
Photo: Fang Pin-chao, Taipei Times
"The video showed that Taipower and the AEC lied. The process was not carried out in an enclosed space and local workers in charge of transportation of the drums had no protective gear," Cheng said.
The storage facility, built in 1982 by the government without prior consultation and communication with Lanyu residents, stopped receiving nuclear waste in 1996. According to Cheng, Taipower completed a four-year repackaging process for 100,277 drums of radioactive material in November last year.
Lawmakers demanded the council assess the impact of radioactive dust on health, provide at least one health examination for Lanyu residents every year and hold responsible persons accountable.
At a legislative Education and Culture Committee question-and-answer session yesterday, Atomic Energy Council Minister Tsai Chuen-horng (蔡春鴻) said he was unable to say from the video footage whether the atomic waste barrels located on the island were damaged.
Tsai said he would ask his colleagues to look into the issue and see whether there were examples of any similar incidents to those displayed in the footage.
Tsai said that all staff on the inspection and maintenance teams were obliged to wear film badge dosimeters, which measure exposure to ionizing radiation.
Barrels containing nuclear waste material emit radiation, but personnel within controlled sectors all have the necessary protective gear and are also equipped with the film badges, he said.
Meanwhile, Taipower official Huang Tian-huang (黃添煌) said at a separate setting yesterday that all maintenance and inspection of the island's nuclear waste has been carried out in accordance with the council's regulations.
The legislators' claims that the area was not sealed off due to sound of wind in the video was probably a result of an air pump trying to maintain negative pressure within the compound, he said.
Speaking about the apparent lack anti-radiation suits in the video, Huang said that there were different standards for maintenance crews, adding that anti-radiation suits did not necessarily have to be bulky and heavy.
Taipower carries out regular physical examinations of maintenance and inspection crew members, Huang said, adding that there was little difference in the amount of radiation detected on either group.
Huang added that as long as Lanyu residents are willing, Taipower would arrange Whole Body Counting Methods examinations for them, which measure radioactivity within the human body. He said more than 500 residents have been examined to date.
The council and Taipower also hold parallel monitoring of the island's radiation emission rate twice a year, Huang said.
Comments will be moderated. Keep comments relevant to the article. Remarks containing abusive and obscene language, personal attacks of any kind or promotion will be removed and the user banned. Final decision will be at the discretion of the Taipei Times.