Vandals damage Chiayi art display
WREAKING HAVOC: Surveillance footage showed two men, accompanied by a woman, hitting one of the Koji pottery frescoes with a rock, before urinating against it
One of the large murals in Chiayi County, which is among the nation's most famous public displays of ceramic fresco art, has been vandalized, prompting condemnation from residents who are calling for better protective measures.
Bantou Village's (板頭) Singang Township (新港) is well-known for its artist village specializing in Koji pottery (交趾陶).
Three large Koji pottery frescoes, mounted on the levee walls on the banks of the Beigang River (北港溪), had been crafted by the village's artists and are a popular tourist attraction.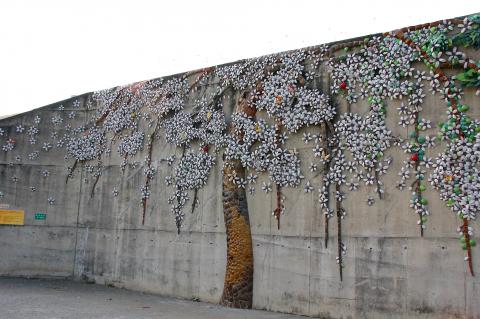 Part of a large Koji pottery fresco in Bantou Village Chiayi County's Singang Township is pictured on Tuesday last week.
Photo: Lin Yi-chang, Taipei Times
However, some visitors allegedly used a rock to smash one of the ceramic frescoes, entitled Four Seasons in the Home Village, damaging part of the artwork.
According to Hsieh Tung-che (謝東哲), chairman of the Bantou Village Development Association, the area surrounding the fresco is regularly patrolled by police.
"However, the vandalism took place between two rounds of patrols and the police missed it. We went through the surveillance footage to find out what happened and saw that two young men, accompanied by a young woman, drove their car up to the frescoes on the night of Oct. 8 at about 11pm," he said.
"One man took a rock and whacked the mural repeatedly. He was also seen urinating on the artwork. They hung around for some time before driving off in their car," he said.
"We are sure these young people are not from our village," he added.
The police said they are investigating the case.
"The damaged portion of the ceramic fresco is difficult to repair. We are not sure how to restore it. Luckily, only a small part was vandalized," said Chen Chung-cheng (陳忠正), who owns a pottery kiln in the area and was among the ceramic craft masters and artists who produced a number of ceramic frescoes in the village.
Their work has raised the village's national profile and helped establish its reputation as a Koji pottery art community, attracting about 70,000 visitors each month.
During this year's Lunar New Year holidays, it attracted about 100,000 visitors in seven days, residents say.
Comments will be moderated. Keep comments relevant to the article. Remarks containing abusive and obscene language, personal attacks of any kind or promotion will be removed and the user banned. Final decision will be at the discretion of the Taipei Times.