Cheap crabs may pose health risk: lawmakers
SAFETY PROCEDURES: DPP lawmakers said the actual sources of cheaper crabs are sometimes unclear, so food safety and quality are questionable
Legislators yesterday voiced concerns about the sourcing and quality of crabs that are suspiciously cheaper than those legally imported from China, urging governmental officials to inspect the origin and quality of cheaper crabs.
Democratic Progressive Party legislators Tsai Huang-liang (蔡煌瑯), Hsiao Bi-khim (蕭美琴) and Chiu Yi-ying (邱議瑩) held a press conference titled "Save Taiwan's hairy crabs" at the legislature in Taipei, expressing concerns that the cheaper crabs may negatively impact the local aquaculture industry and that the quality of the crabs is still unverified.
"The hairy crabs from China's Yangcheng Lake are sold at NT$550, but there are sellers offering hairy crabs for NT$330, claiming they come from Yangcheng Lake" Tsai said, adding that because the prices are suspiciously low, he suspects the crabs may be imported illegally or cultivated in places other than Yangcheng Lake.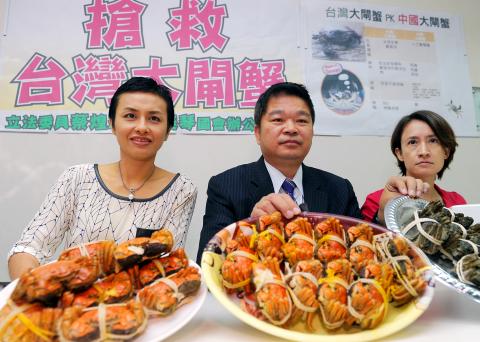 Democratic Progressive Party legislators Chiu Yi-ying, Tsai Huang-liang and Hsiao Bi-khim, left to right, urge the public to buy hairy crabs from Taiwan instead of crabs imported from China at the party's caucus meeting in Taipei yesterday.
Photo: CNA
In addition, he said he suspects that dealers sometimes intentionally report low prices of hairy crabs that they claim come from Yangcheng Lake when applying to customs, for the purpose of covering up illegal smuggling.
Hsiao said the hairy crabs cultivated in Hualien County are kept in a natural environment, with clean water and are fed natural food, such as corn or pumpkins and are not given antibiotics.
However, the actual sources of the cheaper crabs, labeled as crabs from Yancheng Lake, are unclear, so food safety and quality are questionable, she said, adding that consumers should choose crabs from reliable sources to avoid possible health problems.
Chiu said the cheap crabs from China, usually sold on the Internet, are also much cheaper than the crabs cultivated in Taiwan, and urged the Department of Health (DOH) officials to examine these crabs.
An official from the DOH's Food and Drug Administration said it has authorized the import of hairy crabs from 26 aquaculture farms in China, and importers of hairy crabs are required to provide a sanitary certification from local exit-entry inspections.
SPOT-CHECKS
The department also conducts spot-checks for 51 types of drug residues. In addition, inspections are conducted on domestically sourced crabs, he said, adding that the test results have not yet been published.
The nation's Coast Guard Administration said it has already listed the hairy crab as a key inspection item, and 2,698kg of this type of crab has been seized this year — about 400kg more than last year.
Comments will be moderated. Keep comments relevant to the article. Remarks containing abusive and obscene language, personal attacks of any kind or promotion will be removed and the user banned. Final decision will be at the discretion of the Taipei Times.