Thousands march, rally for girls' rights in Asia
More than 100,000 people and more than 80 non-governmental organizations in 15 countries across Asia have rallied over the past few days as part of a campaign for girls' rights in Asia initiated by Taiwan's Garden of Hope Foundation.
Wearing pink scarves with a traditional Taiwanese floral design and holding up posters with the same design and the slogan "2012 Asian Girl Campaign," dozens of girls and rights activists paraded in the Mongolian capital, Ulan Bator, on Saturday, calling for public awareness on girls' rights in the country, the foundation said in a press release.
Similar activities have taken place in various Asian countries in the past week — including India, Pakistan, Cambodia and Afghanistan, it added.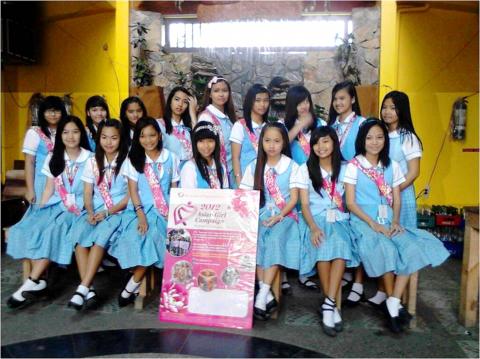 Female students are invited by the Zion Academy of the Philippines to join celebrations for the Asian Girl Campaign in this undated photograph.
Photo courtsey of the Garden of Hope Foundation
In southern India, 365 girls held a march in Mamallapuram organized by the Society for Education and Action to call for the abolition of child marriage, while workshops and forums teaching self-protection and leadership skills were also held, the statement said.
"Asian girls are routinely neglected and devalued. According to the Canadian NGO Plan, 48 percent of girls in southern Asia are married before the age of 18 — the highest percentage in the world," Garden of Hope chief executive Chi Hui-jung (紀惠容) said.
"The Global Gender Gap Report of 2011 placed Asia behind every world region, apart from Africa, in terms the disparity between boys and girls," Chi added.
Chi pointed out that even in developed Asian nations, girls are often in a disadvantaged position in society.
"In developed Asian nations, girls are still trapped by gender stereotypes that limit them from exploring their full potential," Chi said.
"They are bombarded by media messages to conform to an unrealistic ideal of beauty, which makes girls lose their self-confidence in their own natural beauty and they are caught in a cycle of oppression," Chi aaded.
In Taiwan, Chi said, the "lower value" of girls can be seen from selective abortions according to the gender.
Citing figures released by the Department of Health, Chi said that as many as 3,000 female fetuses were aborted in Taiwan last year.
Comments will be moderated. Keep comments relevant to the article. Remarks containing abusive and obscene language, personal attacks of any kind or promotion will be removed and the user banned. Final decision will be at the discretion of the Taipei Times.