Survivor of multiple birth defects offers hope to others
A volunteer with the Noordhoff Craniofacial Foundation has stood strong, despite being afflicted with multiple congenital problems, and expresses a positive view on the world as she works to encourage and give hope to other patients and their families within the foundation.
Seventh-grader Chen Yu-ching's (陳昱晴) health problems first came to light with the discovery that she had microtia.
It was discovered that the bilateral microtia damaged her facial nerves, causing half her face to become disfigured, along with the inability to shut one of her eyelids.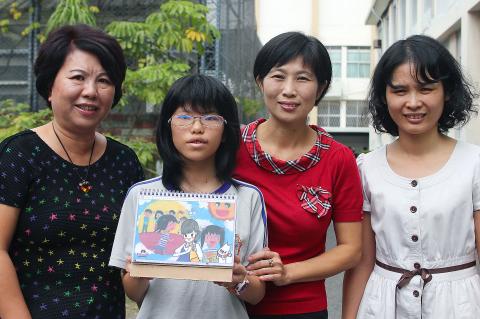 Microtia sufferer Chen Yu-ching, second left, accompanied by her mother, Liu Su-ling, second right, in Greater Tainan on Wednesday last week, holds a Noordhoff Craniofacial Foundation desk calendar featuring an illustration that she drew.
Photo: Huang Wen-huang, Taipei Times
Bilateral microtia had also made her ear canals disproportionately narrow and damaged the ossicles, causing hearing impairment. Chen was also diagnosed with congenital nephritic syndrome and congenital astigmatism, and her sense of balance was also affected due to microtia.
Even though any one of the diseases Chen had been born with would have caused most people to become depressed, Chen's mother, Liu Su-ling (劉素玲), has not only refused to cave in under the pressure of her daughter's multiple diseases, but also met it head on.
"If I raise her as a normal child, then a normal child she shall be," Liu said, and since Chen was young, Liu has helped her adapt to her condition through regular exercises to improve balance.
Aside from her having to wear hearing aids, there is nearly no way of telling that she is different from any other child, Liu said.
As Chen grew older, she often had to visit the hospital and, despite their resolve, when Chen's father suffered a stroke when she was six years old, it was like rubbing salt into their wounds.
At the time, Chen was undergoing intensive therapy sessions, and the situation nearly broke the family's spirit, Liu said, but she also believed that if Chen could overcome her disabilities, there was nothing she could not live through.
Indeed, despite the heavy burden on Chen and her family, they persisted and survived.
Meanwhile, Chen has answered the foundation's call for pictures or drawings for their annual calendar with a drawing of how she attended the annual games for those with disabilities, with her family in attendance.
The drawing nearly moved the judges selecting the best drawings and photographs to tears and they chose it as the best work.
Chen said she hoped that her experiences would encourage other patients and their family members and give them hope.
Comments will be moderated. Keep comments relevant to the article. Remarks containing abusive and obscene language, personal attacks of any kind or promotion will be removed and the user banned. Final decision will be at the discretion of the Taipei Times.