Lanyu mired in garbage crisis
BLIGHTED ORCHID: Orchid Island's renowned natural beauty is threatened by trash, with waste firms discouraged by its remoteness and many people reluctant to recycle
While Orchid Island (蘭嶼), also known as Lanyu, is renowned for its natural beauty and maritime culture, the 48km2 volcanic island off the southeastern coast of Taiwan has also become notorious for its pollution.
In addition to long-standing concerns about the potential adverse effects of radioactive waste stored on the island in the country's only nuclear waste storage facility, many are now worried about Lanyu's garbage crisis caused by rampant littering and improper trash disposal.
"Though I took the trouble of separating my garbage, the proprietor of my guesthouse [in Lanyu] just threw everything together into a trash can," Tainan Community University chairman Huang Huan-chang (黃煥彰) said, after conducting a ecological field investigation on the island in late June.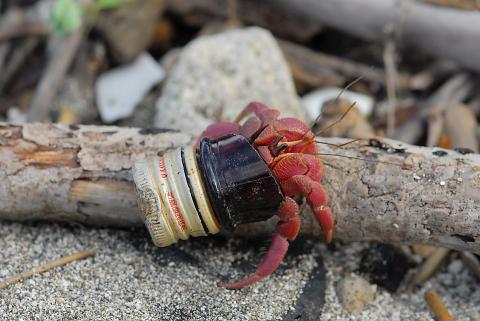 A hermit crab makes its home in the broken-off end of a bottleneck in an undated photograph taken on an Orchid Island beach by Citizen of the Earth, Taiwan board member Huang Huan-chang.
Photo courtesy of Huang Huan-chang
After seeing numerous recyclable items, such as plastic bottles or glass containers, scattered around a reef off the island, Huang, who doubles as a board member of Citizen of the Earth, Taiwan, said he launched an immediate probe into pollution on the island upon returning to Taiwan proper.
Huang said he found that since most Lanyu residents did not recycle their waste, a private recycling firm hired by Taitung County's Environmental Protection Bureau collected the residents' trash bags, ripped them open and recycled only the exact number of items stipulated in their outsourcing contract.
"Such an absurd way of recycling shows that a proper recycling system is completely lacking on this island," Huang said.
To address the matter, Huang said, the government should take initiatives such as: screening educational films on boats headed to Lanyu; stepping up efforts to educate locals about recycling; funding the cost of transporting recycled goods to Taiwan proper and purchasing compression devices for plastic bottles and aluminum cans; and recruiting voluntary workers to collect trash.
Green Formosa Front standing director Lin Chang-mao (林長茂), who conducted an on-site detection of radioactive contamination in Lanyu last week, said that nothing was being recycled on the island whatsoever and that he was devastated by the sight of trash strewen along the seashore.
Fu Chih-nan (傅志男), another Citizen of the Earth, Taiwan board member who carried out an ecological investigation on the island in August, expressed regret over the inaction of some scuba diving instructors, who Fu said stood by as tourists destroyed coral reefs by treading on them.
According to statistics compiled by the Ministry of Transportation and Communications, there are more than 5,500 vehicles — including 502 cars and 5,037 motorcycles and scooters — on the roads of Lanyu, resulting in large quantities of used engine oil being thrown away.
A member of the Lanyu Youth Action Alliance, Taiwan, identified only as A-wen (阿文), initiated a campaign to recycle used motor oil on the island in April.
However, A-wen was discouraged by the relatively small amount of waste oil recycled since he launched the scheme.
"Over the course of six months, only four barrels — or 800 liters — of used motor oil have been recycled, an amount far below my previous estimates. Where is all the used motor oil in Lanyu going?" A-wen said.
Ma Nien-ho (馬念和), the executive secretary of the Environmental Protection Administration's Recycling Fund Management Board, said the Lanyu Township Office should take responsibility for the island's recycling because most private waste collection firms were disinclined to do the job, given the small amount of recycled goods in the area and its remote location.
"However, the administration is offering freight subsidies as part of its effort to help ship recyclable items to Taiwan proper for further processing," Ma said.
In response, Environmental Protection Bureau director Huang Ming-en (黃明恩) said that although Lanyu's recycling rate has increased over the past few years — thanks to the bureau promoting recycling through conventions, forums and radio — more public cooperation was required to make further improvements.
"While the bureau will continue to step up its efforts to tackle the issue through various channels, we urge residents to coordinate recycling efforts," he said.
Comments will be moderated. Keep comments relevant to the article. Remarks containing abusive and obscene language, personal attacks of any kind or promotion will be removed and the user banned. Final decision will be at the discretion of the Taipei Times.