Noodle soup vendor donates NT$1m to local fire department
How many bowls of thin-noodle soup, costing NT$15 each, must one sell to accumulate savings of more than NT$1 million (US$33,000)?
That question was answered by noodle vendor Yeh Cheng-feng (葉成豐), who sells his wares at a traditional market behind Chaotien Temple in Beigang (北港) Township, Yunlin County.
Yeh made a name for himself after he made a NT$1 million donation to the local fire department toward the purchase of a new ambulance.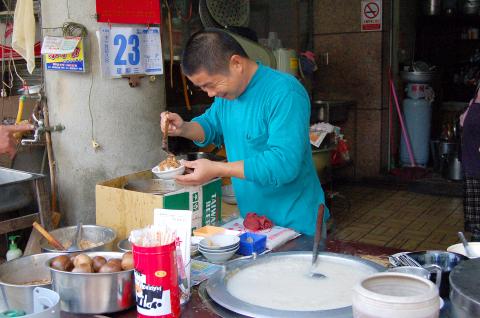 Noodle soup vendor Yeh Cheng-feng, who gave the local fire department NT$1 million to buy an ambulance, prepares a bowl of food near the Chaotien Temple in Yunlin County's Beigang Township on Thursday last week.
Photo: Liao Shu-ling, Taipei Times
The money was initially meant to support his mother in her old age, but Yeh decided to contribute to a larger cause by helping his community purchase the means to better respond to medical emergencies.
Yeh took over the food stand from his mother. The family has been selling its highly popular thin-noodle soup for more than 45 years.
His mother sold snack food and ready-to-eat dishes from a three-wheel cart at the market. Among her offerings were Taiwanese-style glutinous oily rice, taro balls, fried rice noodles and bitter-gourd meatballs.
As her in-laws became older and had difficulty chewing food, Yeh's mother decided to make thin-noodle soup in a pasty consistency for them, a treat that became a local favorite.
The family's thin-noodle soup has been sold for half a century, and its price has remained fixed at NT$15 for three decades.
Yeh took up the family business, adding his own special recipe. Yeh uses thin noodles as the main ingredient, embellishing them with braised egg whites, marinated minced pork and soup stock from slowly stewing hog bones. In his estimation, only a profit of about NT$3 is usually made from each bowl. Now, amid rising commodity prices, a bowl will yield a profit of only NT$1 at the most.
The 50-year-old Yeh has to rely on sales of side dishes, but still the margin is getting thinner. Therefore, when he made his donation of NT$1 million, people were astonished, because he had to sell several hundreds of thousands of bowls of soup to raise the money.
Yeh had polio in his youth, but the disability did not defeat him. The noodle vendor always faces life with a smile and optimism.
He believes the sea goddess Matsu (媽祖) has brought fortune to his family so that his mother could raise four children. To repay her blessing, he often makes anonymous donations to charities.
Yeh also sustained injuries in two accidents in which the fire department intervened to help him, which contributed to his decision to help the local fire department purchase the new vehicle.
Yeh first consulted his mother, who agreed he should donate all the savings accrued over the years from selling their noodle soup.
Comments will be moderated. Keep comments relevant to the article. Remarks containing abusive and obscene language, personal attacks of any kind or promotion will be removed and the user banned. Final decision will be at the discretion of the Taipei Times.