Minister promotes more China investment
Minister of Economic Affairs Shih Yen-shiang (施顏祥) yesterday called on the public to support a government plan intended to attract more inflows of Chinese capital, saying the Democratic Progressive Party's (DPP) counterplan would take the country in the opposite direction, harming the economy.
Shih, who has said that the relaxation of restrictions on Chinese investment in local industries "would not be too slight" following President Ma Ying-jeou's (馬英九) pledge in his Double Ten National Day address to further open up local markets to overseas investments, made the remarks at a press conference hosted by Chinese Nationalist Party (KMT) lawmakers.
The press conference was held to assail the DPP's recently proposed policy that inflows of Chinese capital should be placed under strict scrutiny to protect national security.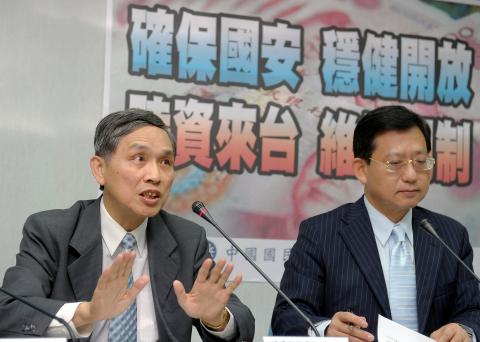 Minister of Economic Affairs Shih Yen-shiang, left, addresses a press conference called by Chinese Nationalist Party (KMT) lawmakers yesterday in Taipei, where he criticized the Democratic Progressive Party's demands for stringent reviews of Chinese investments.
Photo: CNA
Under the DPP's proposal, a mechanism would be established to review any investment of more than NT$500 million (US$17.1 million) from China and five areas of investments in Taiwan would be designated "off-limits" to Chinese investors.
The sectors the DPP said should be "off-limits" would essentially cover all items that could affect the nation's economic development and financial stability, industries in possession of sensitive or advanced technology, as well as major public construction projects. Businesses in monopolistic or oligopolistic industries and enterprises in the fields of politics, society, culture, education, telecommunications, media and agriculture would also be cordoned off because of the potential for Chinese investors to gain access to sensitive or classified national security information.
Enumerating the benefits the nation has reaped from Chinese investors, Shih yesterday said that an inflow of NT$310 million from China since the door to Chinese capital was opened three years ago has created 5,532 jobs for Taiwanese workers, attracted more investments from other foreign countries and driven up national exports.
According to the ministry's statistics, the number of items open to Chinese investment has reached 204, or 96.68 percent, in the manufacturing sector; 161, or 50.95 percent, in the service sector; and 43, or 51.19 percent, in the public construction sector since the previous three rounds of liberalization began in June 2009.
A gargantuan investment review system, like the one the DPP has designed, would not only thwart investments from China, but also from other foreign countries, Shih said.
"We should move toward locking foreign investments out," he added.
The ministry already has rules in place regarding the management of Chinese capital to regulate China-controlled companies. Under existing rules, such companies are defined as those that are more than 30 percent owned by Chinese investors, he added.
Comments will be moderated. Keep comments relevant to the article. Remarks containing abusive and obscene language, personal attacks of any kind or promotion will be removed and the user banned. Final decision will be at the discretion of the Taipei Times.