Man, 93, delights in helping others
THREE-STYLE: The war veteran has made many friends by giving food to the less fortunate which he continues to deliver from the back of his tricycle
To 93-year-old Yilan County resident Chen Piao-ching (陳標金), nothing beats the pleasure of riding around on a three-wheeled bicycle and helping the poor and elderly.
Chen first came to Taiwan after the end of the Chinese Civil War and, due to a mistake made by household administration officials, was registered as being three years older than he actually is.
Though Chen has sometimes struggled to make a living over the years, he has developed a healthy physique and kept an open mind. Except for being a little hard-of-hearing, Chen rarely visits the doctor and is able to ride the 20km to 30km on his three-wheeler to visit friends. He also has clear memories of his wartime days and how he managed to flee China, eventually arriving in Taiwan.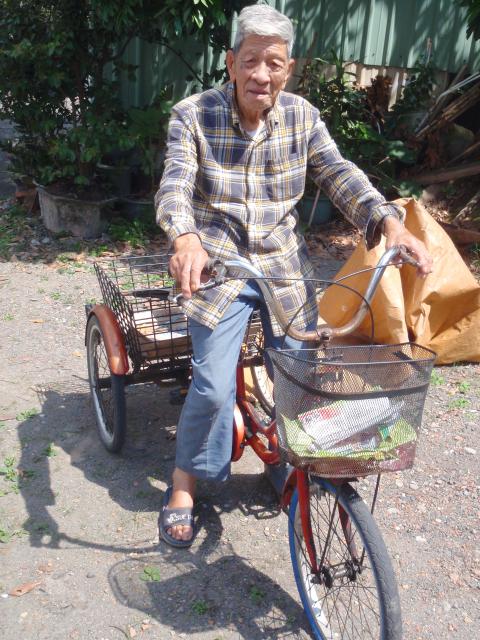 Chen Piao-ching, 93, rides his tricycle on Oct. 7 in Yilan County.
Photo: Hu Chien-sen, Taipei Times
During his middle-aged years, he first made a living by selling sweet potatoes and fruit on the streets of Jiaosi Township (礁溪) in Yilan County. He then sold ice cream for about 10 years and became known as the "grandpa who sells ice cream."
Chen said that he enjoyed interacting with customers and helping others, adding that he would buy food and give it out to poor, disabled and elderly people, and because of this many say that he resembles an elder brother taking care of his siblings.
Now living in an old brick house, Chen depends on his monthly veterans pension provided by the Veteran Affairs Commission. He says his main hobby is watching Japanese wrestling on TV and making friends with people of a similar age.
Saying the life he has now is much better than it was during the civil war, Chen added that the fact that he was so healthy may have something to do with always having good intentions toward others, for which he believes he may have been blessed by the gods.
"I feel relaxed, blessed and happy that I can ride my three-wheeler around and help people my age," he said.
Comments will be moderated. Keep comments relevant to the article. Remarks containing abusive and obscene language, personal attacks of any kind or promotion will be removed and the user banned. Final decision will be at the discretion of the Taipei Times.