NHI subsidy for foreign students not fair: DPP
FORWARD THINKING: The current 2,000 Chinese students would not be a burden on the NHI, but the number is likely to grow rapidly, a lawmaker said
Democratic Progressive Party (DPP) caucus said yesterday it did not oppose the National Health Insurance (NHI) coverage for Chinese students, but the government subsidy would be unfair to Taiwanese taxpayers.
"The DPP caucus supports the coverage of Chinese students on the grounds of humanitarian values, but they should pay the full premium because they do not pay taxes," DPP Legislator Pan Men-an (潘孟安) told a press conference.
The Cabinet on Thursday approved an amendment to include Chinese students in the NHI coverage and set the monthly premium Chinese students have to pay at NT$749, or 60 percent of the full premium of NT$1,249, with the government subsidizing 40 percent, or NT$500.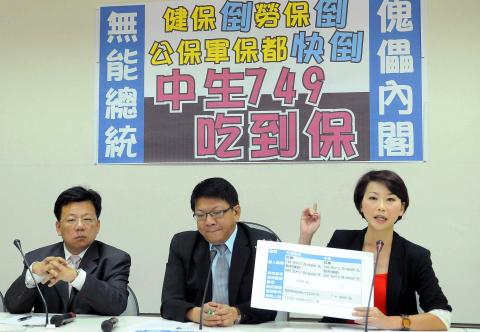 Democratic Progressive Party caucus whip Pan Men-an, center, takes part in a press conference in the legislature yesterday about a proposed measure to include Chinese students studying in Taiwan in the National Health Insurance program.
Photo: CNA
Pan said the policy would not be fair to the 148,000 Taiwanese who had their NHI coverage suspended for being too poor to pay the premium as well as taxpayers who have to pay more than Chinese students for the same package.
While the government insisted that the coverage and the subsidy of less than 2,000 Chinese students would not be a burden on the NHI, DPP Legislator Chen Ting-fei (陳亭妃) warned that, according to the Cabinet's policy, the number of Chinese students was likely to increase rapidly in the coming year.
The NHI is designed more as a social welfare system than an insurance program, which is why the DPP thinks that foreigners — including Chinese — should not be covered, DPP Legislator Lee Chun-yi (李俊俋) said.
Separately yesterday, former DPP chairperson Tsai Ing-wen (蔡英文) echoed the same concerns about a future influx of Chinese students and whether the government has told the public how much the inclusion of Chinese students would impact the service.
Another issue would be the factor of reciprocation, Tsai said, adding that if Chinese students received favorable treatment in Taiwan, Taiwanese students in China should receive the same treatment so it would be mutually beneficial.
Comments will be moderated. Keep comments relevant to the article. Remarks containing abusive and obscene language, personal attacks of any kind or promotion will be removed and the user banned. Final decision will be at the discretion of the Taipei Times.