Cabinet holds off naming Oct. 11 'Taiwan Girls' Day'
GIRLS' RIGHTS: The Cabinet failed to reach a consensus on supporting the UN's 'International Day of the Girl Child,' while the Garden of Hope launched a campaign
The Executive Yuan yesterday failed to respond to a call by civil groups and some lawmakers to declare Oct. 11 "Taiwan Girls' Day" to embrace a UN campaign that has designated the day "International Day of the Girl Child."
Garden of Hope Foundation chief executive Chi Hui-jung (紀惠容) posted a message on her Facebook page expressing her disappointment over the lack of a decision.
According to a statement released by the Executive Yuan, Premier Sean Chen (陳冲) said at the weekly Cabinet meeting yesterday there was room for improvement in protecting the rights of women and girls, and addressing gender discrimination. Chen acknowledged the strong support for a "Taiwan Girls' Day" in recognition of girls' rights and the challenges they face.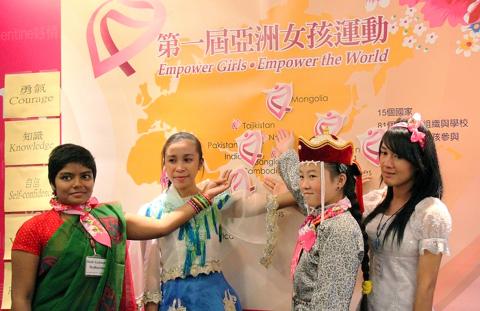 Young women representing Bangladesh, the Philippines, Mongolia and Cambodia attend a ceremony held by the Garden of Hope Foundation in Taipei yesterday to advocate the rights of young females.
Photo: Yang Chiu-ying, Taipei Times
According to a source at the Executive Yuan, during a discussion on Sept. 22 at a Cabinet-level meeting on issues related to gender equality, Vice Premier Jiang Yi-hua (江宜樺), who chaired the meeting where the proposal was discussed, decided to hold off on deciding whether to declare a "Taiwan Girls' Day."
Jiang instructed the Gender Equality Unit of the Executive Yuan to continue to deliberate on the issue because of a "lack of consensus among participants at the meeting," the source said.
Separately yesterday, the foundation launched a campaign in Taipei to raise awareness of girls' rights in Asia.
Four girls — from Bangladesh, Cambodia, Mongolia and the Philippines — attended a ceremony held by the foundation to advocate for girls' rights and share what they have done to help improve the rights of girls in their countries.
Vashwati Madhurima from Bangladesh said girls in her country were often beset by problems that include discrimination, sexual harassment, physical violence and child marriage.
The 17-year-old said that she once went to a house where a child marriage was taking place to stop the girl's father from marrying her off.
"I told him that this is not right. You should take her to school," said Madhurima, who has successfully taken legal action to stop four child marriages over the past three years.
Sandrine Espago from the Philippines said sexual assault was still a major problem in her country and that coming to Taiwan allowed her to make more people aware of the issue.
Even in advanced Asian countries, the self-esteem of girls is still harmed by unreasonable physical standards in commercials and advertisements, Chi said.
She said she hoped campaigns like these would help improve the rights of girls in Asia and encourage governments to invest in and empower them.
Comments will be moderated. Keep comments relevant to the article. Remarks containing abusive and obscene language, personal attacks of any kind or promotion will be removed and the user banned. Final decision will be at the discretion of the Taipei Times.