Tainan to host expo on German writer Gunter Grass
An exhibition of the works of German Nobel literature laureate Gunter Grass opens today in Greater Tainan, which the organizers hope will inspire self-reflection, the organizers said yesterday.
The exhibition at the National Museum of Taiwan Literature is to feature more than 160 watercolor paintings, sculptures, manuscripts and books by the German poet, novelist, illustrator and sculptor, according to the organizers.
Michael Zickerick, director-general of the German Institute in Taipei, said at a press conference that Grass represents the "conscience" of Germany and has had a tremendous influence on the post-war generation such as himself.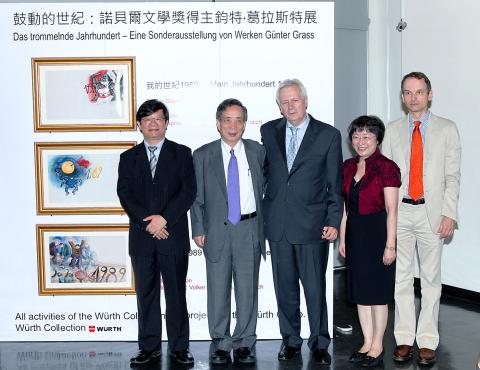 From left to right, National Museum of Taiwan Literature director Lee Jui-teng, National Taiwan University of the Arts president Huang Kuang-nan, German Institute in Taipei director-general Michael Zickerick and Fu Jen Catholic University associate professor Lin Liu Hwei-ann attend an event promoting the museum's Gunter Grass exhibition in Greater Tainan yesterday.
Photo: Wang Wen-lin, Taipei Times
"After the traumatic years of the fascist Nazi regime, it took someone like Grass to pinpoint and then put his finger into the wound and show it," and not allow the public to forget what happened "too easy and too fast," Zickerick said on the sidelines of the event.
Lin Liu Hwei-ann (林劉惠安), an associate professor at Fu Jen Catholic University who is running the exhibition, said Grass is not only a dedicated writer and artist, but also someone deeply involved in social and political activism.
"This is something we can learn from," Lin Liu said, adding that she hopes Grass can inspire Taiwanese writers and artists to incorporate social issues into their work.
Grass won the coveted Nobel Prize in Literature in 1999. He was honored by the award's committee as a writer "whose frolicsome black fables portray the forgotten face of history."
One of the most widely read novelists in Germany, he rose to fame after the publication of his 1959 novel The Tin Drum, which follows the life of a boy named Oskar who progresses through the ravages of World War II in Germany.
That book in addition to his subsequent novels, Cat and Mouse and Dog Years, which also detail wartime experience in Danzig, comprise the bestseller Danzig Trilogy.
Grass is best known for his critical approach to social, cultural and political issues. In April he published a poem that denounced Israel's nuclear weapons stockpile and another that criticized the treatment of Greece in the European debt crisis.
The 84-year-old said in a pre-recorded video that he is glad to know that his works are to be displayed in Taiwan and that the exhibition highlights his identity as both a writer and an artist.
The exhibition runs until Jan. 6.
Comments will be moderated. Keep comments relevant to the article. Remarks containing abusive and obscene language, personal attacks of any kind or promotion will be removed and the user banned. Final decision will be at the discretion of the Taipei Times.