Criticism mounts after Executive Yuan spokesman's iPhone Facebook posting
Premier Sean Chen (陳冲) yesterday appeared to disagree with Cabinet spokesperson Hu Yu-wei (胡幼偉) over what Hu described as a tactic to attract public attention to the government's economic stimulus proposals after posting an image of an iPhone 5 on Facebook.
Hu sparked controversy and raised the ire of netizens yesterday over the picture of the latest Apple smartphone along with an appeal for people to consume more to boost the economy.
Facing heavy criticism, Hu offered various explanations as to why he posted the message, with the latest being that he used it as a tactic to draw attention to the Cabinet's economic stimulus proposals.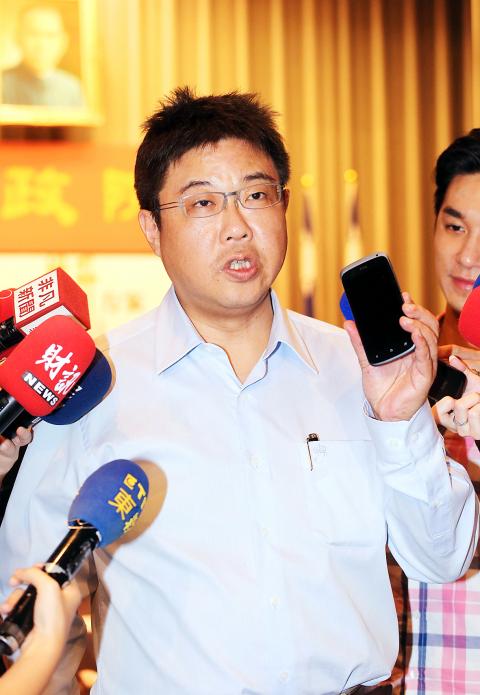 Executive Yuan spokesperson Hu Yu-wei holds up his HTC smartphone while talking to reporters in Taipei yesterday as he sought to clarify why he had posted pictures of an Apple iPhone 5 on his Facebook page.
Photo: CNA
Approached by reporters on whether it was a good idea to promote the government's policy, Chen said that the duty of a spokesperson was to elaborate on what a premier had said when the message needed clarification.
"To be honest, I don't think it's my duty to explain what he [Hu] has said," Chen said.
Before Hu offered the explanation, he first said that the iPhone 5 belonged to a friend and then posted another picture of his HTC One S, a homegrown brand, on his Facebook page.
He said on the social network platform that posting the image of an iPhone 5 was a "sting" operation designed to draw criticism.
Saying that he agreed with Minister of Economic Affairs Shih Yen-hsiang (施顏祥),who has urged the public to buy HTC smartphones, Hu added "that didn't mean that we have to be kept under close watch for what kind of smartphone we use."
"In a democracy, it's not necessary," Hu said.
Comments will be moderated. Keep comments relevant to the article. Remarks containing abusive and obscene language, personal attacks of any kind or promotion will be removed and the user banned. Final decision will be at the discretion of the Taipei Times.