Labor groups stage angry protest over wage proposal
Representatives from major labor groups yesterday staged a protest at the Executive Yuan over the government's plans to increase the national quota for foreign workers and to introduce a dual-track minimum wage for free economic zones.
The protest was held outside the building during a supra-ministerial meeting covering a range of foreign labor issues, including the proportion of migrant workers allowed to work in the country as well as a debate around the issue of an employment stabilization fund that companies would have to pay into if they want to hire additional foreign labor.
The meeting, aimed at devising policies to boost private investments as well as the sluggish domestic economy, was also scheduled to discuss a controversial proposal that would allow companies operating in free economic zones to adopt a dual-track minimum wage system to facilitate the hiring of foreign workers.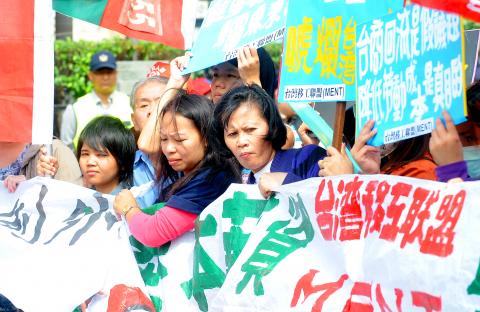 Representatives from labor groups protest outside the Executive Yuan yesterday over the government's plans to increase its migrant worker quota and to introduce a dual-track minimum wage system.
Photo: Lin Cheng-kung, Taipei Times
Under such a system, foreign workers are to be subject to a different minimum wage structure than local employees.
The demonstrators said that all the proposals were designed to provide employers with greater leverage by allowing them to recruit foreign laborers at lower costs.
Job opportunities for locals would be squeezed and employers would become even more reluctant to raise wages, the protesters said.
"Therefore, we firmly oppose any schemes to raise the ratio for the employment of foreign workers and to introduce a dual-track minimum wage system," said a labor rights activist who declined to be named.
Several police officers were mobilized to the site of the protest, but despite forming a human chain in front of the Executive Yuan, were unable to stop the infuriated protesters from pelting the government building with eggs.
The demonstration was organized by various major labor groups, including the Taoyuan County Labor Union and the Taiwan Confederation of Trade Unions.
Comments will be moderated. Keep comments relevant to the article. Remarks containing abusive and obscene language, personal attacks of any kind or promotion will be removed and the user banned. Final decision will be at the discretion of the Taipei Times.