ROC flags planted in protests by China: expert
The presence of Republic of China (ROC) national flags in recent demonstrations staged by Chinese to protest against Japan for buying three of the Diaoyutai Islands (釣魚台) appeared to be an attempt by China to give an impression to the international community that both sides of the Taiwan Strait stand united on the issue, a Taiwanese political observer said.
Tung Li-wen (董立文), a Taiwan ThinkTank consultant, pointed out that China, by allowing the ROC flags appear in the protests, purposely created an impression to the world that there's a "common stance on Diaoyutai Islands on both sides of the Taiwan Strait" as well as to strengthen the policy of "one country on both sides of the Strait."
In part, the flags were also an attempt on Beijing's part to test the Chinese public's reaction toward an ROC political symbol and to lay the tracks for future political negotiations between Taiwan and China, he added.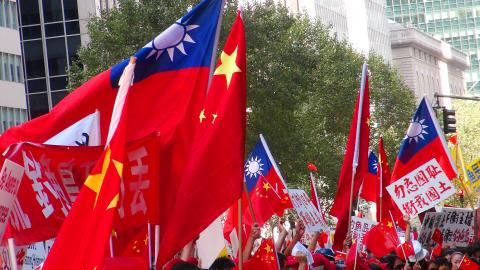 More than 1,000 protesters wave Republic of China and Chinese flags outside the Japanese consulate in New York yesterday in reaction to Japan's decision to nationalize three islets in the disputed Diaoyutai Island chain.
Photo: CNA
"The [presence] of ROC flag at the protests is an attempt to split the US-Japan-Taiwan Military Alliance, to break up the current East Asia regional security arrangement," Tung said. "If Taiwan and China do work together to fight Japan on the Diaoyutai Islands dispute, this would directly impact national security. President Ma Ying-jeou's (馬英九) government must handle this very prudently."
On Sunday, during a cross-strait economic and cultural exchange forum in China, China's Taiwan Affairs Office Minister Wang Yi (王毅) said that "people on both sides of the Taiwan Strait should transcend their differences and work together in defending our overall interests, against outside aggressors," implicitly suggesting Taiwan and China jointly fight against Japan on the Diaoyutai issue.
In response, Mainland Affairs Council Minister Lai Shin-yuan (賴幸媛) reiterated that Taiwan would not cooperate with China on the issue.
Comments will be moderated. Keep comments relevant to the article. Remarks containing abusive and obscene language, personal attacks of any kind or promotion will be removed and the user banned. Final decision will be at the discretion of the Taipei Times.