Retirees rekindle love by backpacking around the world
When talking about backpackers, most people think of young adults traveling with large bags, but a retired couple from Beijing — Zhang Guangzhu (張廣柱) and Wang Zhongjin (王鐘津) — have turned the stereotype on its head by backpacking around the world in their sixties.
"Both of us had dreamed about traveling around the world when we were young, but we didn't have a chance to fulfill that dream at the time, so we thought the time to do so would be when we both retired, and we did it," Zhang, 64, said in Taipei yesterday at a news conference held to launch a book about their travels. "Traveling as a backpacker requires courage and skill, but courage is the most important thing, because if you don't have the courage to walk out and just stay home every day, your dreams will always be dreams."
Since 2008, the couple has backpacked through more than 40 countries in Asia, North and South America, Europe, Africa and Oceania.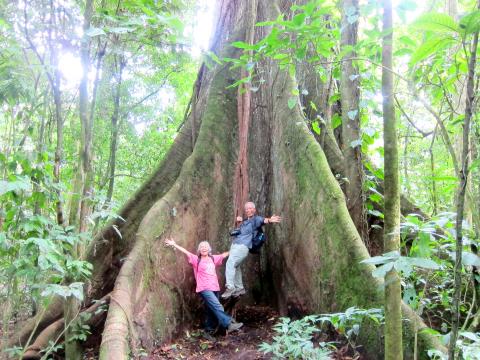 An undated photo shows retired couple Wang Zhongjin, left, and Zhang Guangzhu, right, traveling in Costa Rica.
Photo courtesy of iG Publishing Co.
Besides wanting to fulfill the dreams of their youth, Wang, 62, said that finding something new and exciting in their marriage also motivated them to take the trip.
"We've been married for decades, being together is no longer as exciting as it was when we were young, and we've always been annoyed by the trivialities of life and complicated relationships with relatives," Wang said.
"The problems in our marriage may not have been so obvious when we were both working, but once we retired and had to spend almost 24 hours every day together, it could get boring, and when being together gets boring, we fight," she added.
She said that sometimes they would fight about small things such as where a cup should be placed and even had a serious fight where both said they wanted a divorce.
"We resolved that we needed to rekindle our relationship and thought traveling around the world as we had always wanted to do could be the way to do so," Wang said.
The first challenge they encountered was the language, since both of them only speak Mandarin.
But the couple overcame the problem with their smiles, body language, simple words and phrase books.
Wang recalled how she chatted with an indigenous woman in the Amazon rainforest during a six-day boat ride in Brazil last year.
"Besides two European couples from France and Germany, most of the passengers on the boat were locals. We were the only Asian couple, so some locals were interested in us and approached us," Wang said.
She said a woman came to them and, wanting to ask how many children they have, "she made a ball-shaped gesture over her belly and I realized she was asking me how many children I have, so I held out my index finger, telling her I have one child."
"I also made the same gesture, asking her how many children she has, and she held up nine fingers," Wang said. "I then made a hair-combing gesture and she immediately understood that I was asking how many of her children are girls and showed me three fingers."
"That is how I communicated with people along the way even thought I don't speak any foreign language," she added, laughing.
The couple said that they learned to respect peoples' different ways of life and not to judge others.
"Along the way, I also realized that traveling is not about how old you are, or how much money you have, but about how healthy you are," Zhang said. "The world is too beautiful. My only wish now is that both of us will stay healthy, because I want to travel around with my wife for 30 more years."
Comments will be moderated. Keep comments relevant to the article. Remarks containing abusive and obscene language, personal attacks of any kind or promotion will be removed and the user banned. Final decision will be at the discretion of the Taipei Times.