Lobbying declines after introduction of Lobbying Act
The number of registered lobbying cases has decreased each year since August 2008, when the Lobbying Act (遊說法) was first put into effect, according to a recent research report.
The report said that as of August last year, the number of lobbying cases totaled 248 over the past three years, 192 of which involved lobbying the Legislature.
The remainder involved the Executive Yuan, the central government and local governments.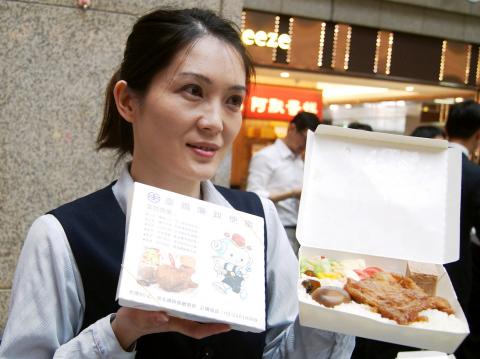 A Taiwan Railways Administration (TRA) employee yesterday holds up a lunchbox that has been titled a "Clean Politics Lunch Box." The TRA launched it as part of a drive to promote ethical politics.
Photo: Tseng Hung-ju, Taipei Times
The report, which was written by Chinese Culture University professor Yang Tai-shun (楊泰順) for the Ministry of the Interior, found that the number of cases was the highest when the act was adopted, but dropped sharply after the third quarter of 2010.
From the fourth quarter of 2010 to August last year, "the number of lobbying cases nearly stalled," a ministry official said.
Commenting on the decline in reported cases, the official said the Lobbying Act defines lobbying as confined to "policy agenda" and that petitions by the public do not fall into this definition.
Lin Ching-chi (林清淇), deputy director of the ministry's Department of Civil Affairs, said the act's requirement for registration is seen as inconvenient by many people who are now more likely to use other channels, such as the media, to express their views, which might have affected the number of lobbying cases.
According to the Lobbying Act, those who can be lobbied include the president, vice president, elected officials, as well as heads and deputy heads of cities, counties and township offices.
Lobbyists who engage in improper lobbying are liable to fines of up to NT$2.5 million (US$83,560).
Reform of the Lobbying Act was brought up after President Ma Ying-jeou (馬英九), in the wake of recent bribery charges involving former Executive Yuan secretary-general Lin Yi-shih (林益世), said on Saturday that a mechanism would be devised within two month to regulate lobbying between public officials and special interest groups.
Comments will be moderated. Keep comments relevant to the article. Remarks containing abusive and obscene language, personal attacks of any kind or promotion will be removed and the user banned. Final decision will be at the discretion of the Taipei Times.