SID probes testimony discrepancies
FACE TO FACE: Lin has said that he alone was guilty of taking a bribe, though he was unable to offer a plausible reason why his mother and wife had access to the money
The Supreme Prosecutors' Office Special Investigation Division (SID) yesterday said it planned to bring former Executive Yuan -secretary-general Lin Yih-shih (林益世) face-to-face with his wife and mother in the hope of clearing up discrepancies in the accounts they have given as part of a corruption probe involving Lin.
Lin has been listed as a defendant after investigators searched his residence for evidence of -corruption following an accusation by Chen Chi-hsiang (陳啟祥), head of Ti Yung Co, a metal-recycling company, who accused Lin of extorting a bribe of NT$63 million (US$2.1 million) to help him secure procurement contracts from China Steel Corp (CSC) and two of its subsidiaries in 2010, and of asking for a further NT$83 million this year.
Lin's mother, Shen Juo-lan (沈若蘭), on Wednesday handed the SID NT$18 million in local currency that she said she received from Lin. Investigators opened a safe deposit box, rented under the name of an acquaintance of Shen's, and discovered a large amount if New Taiwan dollars and US dollars.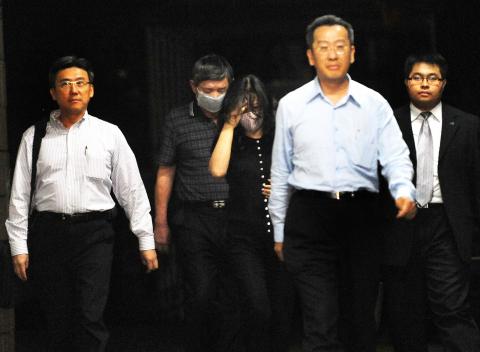 Ti Yung Co head Chen Chi-hsiang, second left, and his girlfriend leave the offices of the -Special Investigation Division in Taipei, accompanied by their lawyers, after questioning on -Saturday evening.
Photo: CNA
The SID is trying to determine how much of the NT$75 million that has so far been confiscated comes from the alleged bribe given to Lin by Chen.
According to the SID, Lin has maintained that he is the guilty party and he alone took the bribe, though he was unable to offer a plausible reason as to why his mother and wife had access to the money.
The SID added that it is focusing on CSC and two of its subsidiaries and would be questioning -individuals from those three corporations this week.
When asked if it would question Lin's father, Lin Hsien-pao (林仙保), the SID said it had no plans to do so as there was no evidence of his involvement in the case.
Chen was questioned by the SID for 10 hours on Saturday and then released.
His attorney Wellington Koo (顧立雄) said his client had sought to become a witness for the prosecution in exchange for leniency. That proposal has been approved by prosecutors, Koo added.
The SID added that it planned to extend the investigation by reviewing the main documents Lin signed during his stint as Executive Yuan secretary-general.
Comments will be moderated. Keep comments relevant to the article. Remarks containing abusive and obscene language, personal attacks of any kind or promotion will be removed and the user banned. Final decision will be at the discretion of the Taipei Times.