Farmer brings pears to the south
Pingtung County's first pear orchard has come to fruition after 10 years of searching for a way to ensure the survival of pears in southern Taiwan's hot climate.
The task of cultivating pears in hot weather — known as tropical pears — is not easy, because pears normally grow in cold climates.
The achievement was attributed to farmer Lin Chun-yu (林君諭) of Wandan Township (萬丹) in Pingtung County. He has been trying to find methods of growing pears in Pingtung for the past 10 years.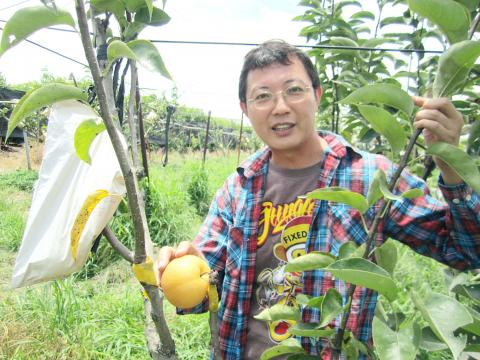 Lin Chun-yu displays his tropical pears in Wandan Township of Pingtung County on Tuesday.
Photo: CNA
It took six years of trying before he succeeded in growing a batch of pears. Now he has completely embraced climate factors and the environment that affect pears' growth. He uses sand pears, because they are better suited to hot weather.
There is not much difference between tropical pears and those cultivated in cold temperatures. The main difference is that pears grown in the south of Taiwan can be harvested two weeks earlier than those grown in the north, Lin said.
He added that the pears fetch a good price, because they appear on the market two weeks before pears from northern orchards.
Lin said the key to overcoming the hot southern climate lies in the way the grass that grows between pear trees is nurtured. Herbicides cannot be used and the grass has to be mowed with a lawnmower.
However, the grass cannot be mowed too close to the ground, because a gap has to be left for the soil to retain its moisture and to ensure that the soil's temperature will not vary too much.
In addition to all of this, the right organic fertilizers must be used for the pears to grow well.
Lin said he did not mind sharing his methods with other farmers in the south, adding that he has already taught his techniques to many of his friends and they have been successful in their ventures.
With no background in agriculture, he inherited his parent's land and with the encouragement of friends from Taichung, where pears are grown in cooler temperatures, he formulated the idea of growing tropical pears.
Lin also took classes at Kaohsiung District Agricultural Research and Extension Station to learn the skill of plant grafting.
The harvest from the 140 pear trees planted by Lin has been sold already. The pears have fetched about NT$150 per kilogram.
Comments will be moderated. Keep comments relevant to the article. Remarks containing abusive and obscene language, personal attacks of any kind or promotion will be removed and the user banned. Final decision will be at the discretion of the Taipei Times.