Vote against casino: politician
BAD FOR YOU: Citing the example of Penghu, Control Yuan President Wang Chien-shien yesterday urged Matsu residents to reject casinos because they are 'poison'
Ahead of a referendum tomorrow on whether to accept a casino on the outlying Matsu islands, Control Yuan President Wang Chien-shien (王建煊) yesterday urged residents of the archipelago to vote against the proposal, which he said would turn their homeland into "a land of sin."
If residents of Matsu vote to pass the referendum, it would spark a disaster for their descendants for generations to come, Wang told Matsu residents through the media.
Wang said he saw first-hand what changes a casino brings to people when he was invited to preach in a church in Macau two years ago.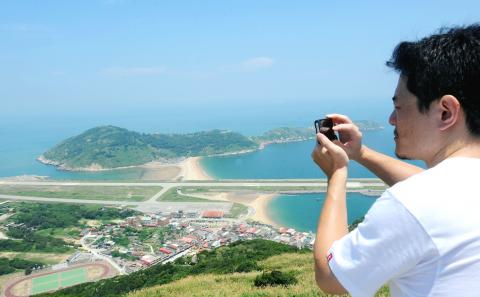 A tourist takes a picture yesterday of an area designated for the construction of a casino on Beigan, an island in the Matsu archipelago.
Photo: Chang Chia-ming, Taipei Times
In Macau, people have easy access to loan offices, especially in areas where casinos are located, because gamblers who lose money in casinos sometimes have to get a mortgage so they can go gambling again, Wang said.
He added that he knew of people committing suicide because they could not pay their gambling debts, or continuing gambling until they had no possessions left.
Residents of Penghu voted against a proposal by the Executive Yuan to allow a casino to open in the county in a referendum held in September 2009.
According to the Offshore Islands Development Act (離島建設條例), the government can permit the licensing of casinos on outlying islands pending the results of a referendum, which is not subject to the turnout threshold in the Referendum Act (公民投票法), which stipulates that half of all eligible voters have to cast ballots for a poll to be valid.
In the referendum in Penghu County, a total of 42.16 percent of 73,651 eligible voters turned out for the referendum, with 17,359 votes, or 56.44 percent, voting the proposal down.
"I thought the [proposal for a casino in the] referendum would have passed because of the low threshold requirement, but it turned out that residents of Penghu showed their mettle. I hope that residents of Matsu can prove that they have the courage and vision to reject casinos," Wang said.
Some people contend that casinos create jobs, but what they do not say is that this "medicine" to boost the economy is actually poison, he added.
"There are other alternatives," Wang said.
Wang said that the Executive Yuan has to tell Matsu residents that its policy to improve the county's transport infrastructure is not contingent on the result of the referendum, to assuage the public's fears over possible fallout from saying "no" to casinos.
"Matsu is a place where its beauty lies in its simplicity. If the referendum [on the casino proposal] passes, it could become a land of sin," he said.
Comments will be moderated. Keep comments relevant to the article. Remarks containing abusive and obscene language, personal attacks of any kind or promotion will be removed and the user banned. Final decision will be at the discretion of the Taipei Times.