Army holds live-fire artillery exercise in Hsinchu
The sixth regiment of the Army Command Headquarters yesterday held an artillery exercise to demonstrate the firepower and accuracy of the army's artillery division.
The exercise was held yesterday morning at a target practice field in Hsinchu County's Kengzih Kou, with 24 self-propelled M110-A2 howitzers, firing off 72 shots at the target area, located in the ocean.
The exercise was divided into two parts, a readiness evaluation and live fire component, providing the artillery division with training while also testing the efficacy of its equipment.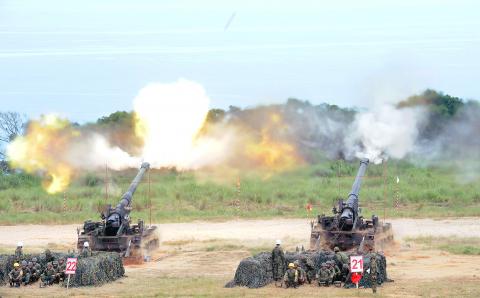 Military personnel operate M110A2 self-propelled heavy artillery cannons during an annual live-fire drill in northern Hsinchu County yesterday.
Photo: AFP
The exercise was conducted as part of a scenario whereby the army's artillery division was called on to conduct counter-landing operations against People's Liberation Army (PLA) forces attempting to land on Taiwan.
The exercise lasted an hour, with each Howitzer firing off three shells, the first the "warmer" round to prime the chamber and the second and third as counter-landing strikes.
The maximum range of an M110-A2 8-inch self-propelled howitzer is 21.3km.
Utilizing simultaneous loading and firing in groups of two to four tanks, the artillery division demonstrated accurate marksmanship and hit the target at 7km out to sea.
The exercise's goal was to provide the artillery division with training and that goal had been achieved, Colonel Chen Chun-yuan (陳俊源) from the 21st command center said.
The exercise comes just days before a major missile defense drill is to be held on Monday at Jiupeng in Pingtung County. The armed forces also held a tri-service live-fire exercise in Pingtung County early last month following criticism by opposition lawmakers that the annual Han Kuang military exercises had not included live ammunition.
Comments will be moderated. Keep comments relevant to the article. Remarks containing abusive and obscene language, personal attacks of any kind or promotion will be removed and the user banned. Final decision will be at the discretion of the Taipei Times.