Video of kind student plucks at netizen's heart-strings
HEART-WARMING: Images of a high-school student aiding an elderly recycler as she struggled in a rainstorm have prompted an outpouring of online admiration
Pictures capturing a high school student in Changhua County braving torrential rain for 20 minutes to help an elderly garbage collector walk home went viral after it appeared on Facebook last week, melting the hearts of many netizens.
On the evening of June 18, during one of the many days when large parts of the country were being battered by heavy downpours, Fu Kuan-chen (傅冠禎), a sophomore at Yunlin's Yi Fong High School, was peddling her bicycle home from school amid cloudbursts in Changhua's Pitou Township (埤頭) when she noticed an elderly recycler hobbling alone in the rain with a slow-moving cart.
The aged lady, clad in rainwear and wearing a woven straw hat, could barely walk straight and kept drifting into the middle of the road, in part because of the driving rain and her cart, which had a damaged wheel axle.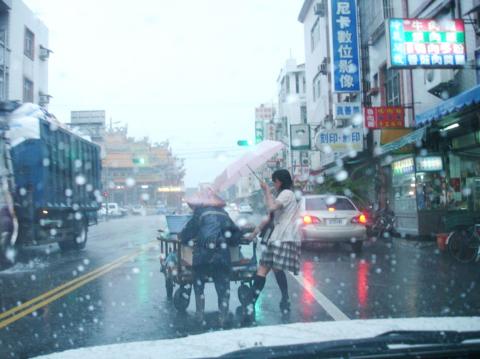 High-school student Fu Kuan-chen holds an umbrella for 75-year-old Hsieh Feng-chiao during heavy rains on June 18 as she helps the elderly woman push her recycling cart along the road in Pitou Township, Changhua County.
Photo courtesy of reader Hung Mei-fei
Worrying that the elderly woman could be in danger of being hit by passing cars, Fu parked her bicycle and rushed to hold up an umbrella for the old woman and helped her to push the cart, which was loaded with recyclable materials.
"Thank you … but you don't have to," the aged woman said to Fu, seeing that the warm-hearted student was getting soaked in the rain.
Fu simply smiled and told the elderly lady that "it was okay" before continuing to help.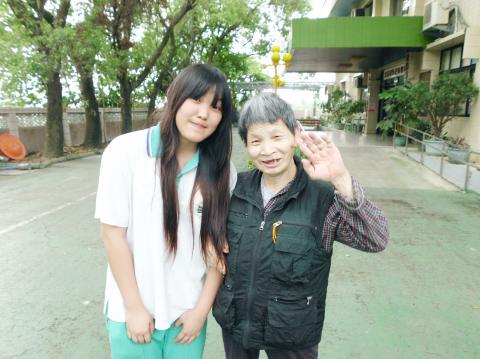 Yi Fong High School student Chuan Kuan-chen, left, is pictured on Friday with an elderly resident of a rest home in Linnei Township, Yunlin County.Chuan spends her free time doing voluntary work.
Photo courtesy of Chuan Kuan-chen
The heart-stirring moment was captured on the dashboard camera of beauty salon manager Hung Fei-min (洪菲敏), who happened to be close by and witnessed the scene.
Her heart melted by the student's benevolent deed, Hung said she then slowed down and trailed the pair for as long as 20 minutes, partly to ensure they arrived safe and sound.
Hung then uploaded screenshots taken from her camera and shared them with her acquaintance Chang Hsueh-ju (張雪如), a Changhua County councilor, who was so touched by the images that she posted them on her Facebook page.
The posting attracted hundreds of "like" clicks from netizens within just one day on Thursday, with some calling on her high school to publicly recognize Fu's benevolence.
"The downpour on that evening was so heavy that you could have been soaked to the core within a minute, so when I saw the scene through my windshield, my heart ached a little, but I was also delighted and amazed to see such an attentive child," Hung said, recollecting the deeply moving moment.
At a time when the nation's educational system is dominated by "diploma-ism," and when most young children profess nothing but indifference to their surrounding world, Fu's righteous deed is even more commendable, Hung said.
The elderly recylcer, who was later identified as 75-year-old Hsieh Feng-chiao (謝鳳嬌), said she was truly grateful to Fu, who she said was the first person to ever lend a hand to her in such a manner over the past years.
"It was raining so hard that day that it blurred my vision, and I was left clueless that [Fu] was a high school student," Hsieh said. "I tried to offer her a cup of tea after arriving home, but she kindly declined by saying she was in a hurry to go home."
Fu also turned down a kind offer by a well-intentioned passer-by who volunteered to take her to her parked bicycle and instead insisted on getting there by foot.
Fu's high school teacher, Fu Ya-chuan (傅雅娟), said the student demonstrated excellence in her academic performance and had repeatedly been awarded with first-place scholarships every semester.
Aside from her academic achievements, Fu Kuan-chen also volunteers for various causes in her spare time, the teacher said, such as aiding the Huashan Social Welfare Foundation with receipt lottery ticket collection, while also volunteering at a library.
School principal Wang An-shun (王安順) said in response that the school gave weight to the building of students' moral characters.
"[Fu] Kuan-chen's beneficence is indeed praiseworthy and the school is planning to recognize [such exemplary behavior] in mid-July, along with a citation for grand merit," Wang said.
Translated by Stacy Hsu, staff writer
Comments will be moderated. Keep comments relevant to the article. Remarks containing abusive and obscene language, personal attacks of any kind or promotion will be removed and the user banned. Final decision will be at the discretion of the Taipei Times.