Conservationists go to bat for bats
Despite their association in Western folklore and modern Hollywood movies with nocturnal monsters and blood-sucking demons, bats have been great contributors to society, both culturally and ecologically, the Bat Conservation Society of Taipei -said.
"Bats are not only seen as a symbol of good fortune in traditional [Chinese] culture, but are also of great assistance to farmers in pest control," said Hsu Chao-lung (徐昭龍), a research fellow at the society.
Hsu said that because of "brainwashing" by horror films, many people often associate bats with the embodiment of evil spirits or calamity-bringers.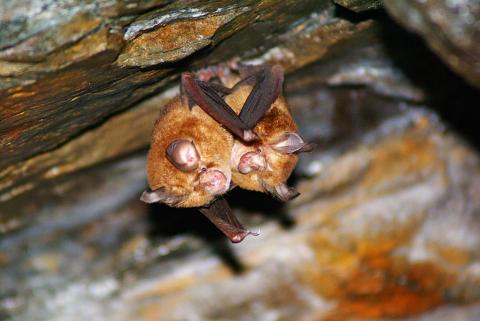 A Formosan lesser horseshoe bat is pictured on Tuesday.
Photo provided by Hsu Chao-lung
However, the majority of ranchers in the central US build dwellings for bats, Hsu said, because the animals eat harmful insects at night and because their excrement serves as some of the best fertilizer.
According to Hsu, the conservation group has instructed urban residents on the installation of easy-to-construct "bat houses" near their properties, which could draw the nocturnal animals and help eliminate disease-spreading insects.
Assuming each bat consumes an average of 1,000 mosquitoes per day, 10 such "insect terminators" could help a community exterminate 10,000 of the blood-sucking pests in one day, Hsu said.
In this way, the spread of mosquito-borne diseases and the usage of chemical insecticides can both be reduced, Hsu added.
Five bat species are indigenous to Taiwan: the Formosan lesser horseshoe bat, the Formosan leaf-nosed bat, the Japanese long-winged bat, the Japanese house bat and the chestnut bat, Hsu said.
Of the 80 species of land mammals in the country, 37 of them are bat genuses, Hsu said.
"Traditionally, the nocturnal mammals are symbols of good fortune and longevity, which is why they were embroidered on Chinese emperors' robes and sculpted as temple ornaments," Hsu said.
In spite of their beneficial function in everyday life, the public lacks sufficient knowledge about the creatures and they lack coverage in school textbooks, Hsu said.
"By taking part in more promotional events at schools, the conservation society aims to improve the public's impression of bats to encourage them to be closer and friendlier to such valuable animals," Hsu said.
Translated by Stacy Hsu, staff writer
Comments will be moderated. Keep comments relevant to the article. Remarks containing abusive and obscene language, personal attacks of any kind or promotion will be removed and the user banned. Final decision will be at the discretion of the Taipei Times.