Foundation finds toxic BPA in 18% of thermal papers
The Consumers' Foundation yesterday said their inspection of thermal papers used in banks, hospitals and convenience stores showed that 18 percent contained bisphenol A (BPA) — an organic compound that interferes with the human reproductive system.
Thermal paper is commonly used for printing receipts, fax paper, lottery tickets or claim checks, and bisphenol A has been banned for use in thermal papers in Taiwan.
Foundation chairperson Joann Su (蘇錦霞) said the result of the first inspection by the foundation in 2010 showed that 64 percent of thermal papers contained BPA. The latest inspection in April, on 29 thermal paper items and 34 samples, showed six items had between 10mg and 50mg per liter of BPA.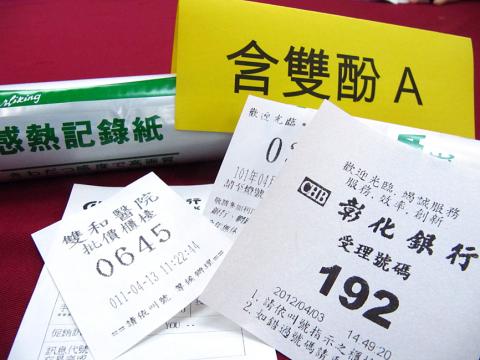 Samples of thermal paper containing the organic compound bisphenol A are displayed at a press conference organized by the Consumers' Foundation in Taipei yesterday.
Photo: Yang Chiu-ying, Taipei Times
The six items included two fax papers, an invoice from a bank's cash machine and three waiting-number slips from two banks and one hospital.
According to the foundation, the current US human exposure limit of BPA is set at 50mg/kg per day, and BPA is listed as a category-four toxic substance under the Toxic Chemical Substances Control Act (毒性化學物質管理法) in Taiwan.
National Tsing Hua University chemistry professor Ling Yong-chien (凌永健) said BPA had been found to be an endocrine disruptor, an environmental hormone that affects the reproduction system.
People can be exposed to BPA through inhalation, food, medical injection and mother-to-child transmission, Ling said, adding that it is especially harmful to pregnant women and children.
A US research report that examined the dissolution of BPA in the urine of 398 pregnant women showed that BPA densities were much higher in the urine of cashiers, who were often exposed to thermal papers, than in those who were teachers or factory workers, Ling said.
Pregnant women and children should try to avoid touching thermal papers and should wash their hands after handling the papers, the foundation suggested, adding that alcohol-containing hand sanitizer should be avoided because it increases the dissolution of BPA.
Comments will be moderated. Keep comments relevant to the article. Remarks containing abusive and obscene language, personal attacks of any kind or promotion will be removed and the user banned. Final decision will be at the discretion of the Taipei Times.